Aiming high: High Altitude Training Camp with BC's Kendra Pomfret
May 8, 2017 13:12pm
(Kendra Pomfret of Vancouver, is an elite female 1500 meter runner with a PB of 4:14.00. Kendra attended the Unviersty of Victoria where she competed for the Vikes in both Track & Field and Cross Country. After graduation she relocated to Vancouver where she is currently coached By Chris Johnson & Wynn Gmitroski.)
Under the guidance of Athletics Canada's West Hub, I have spent the last month living and training in Flagstaff, Arizona, as I prepare for my 2017 outdoor season. At 7,000 ft, Flagstaff is a hot zone for numerous endurance athletes looking to get an extra edge on their competition. On any given day, it is common to run (literally) into the likes of World and Olympic champions, representing various countries in events from the 800m-marathon.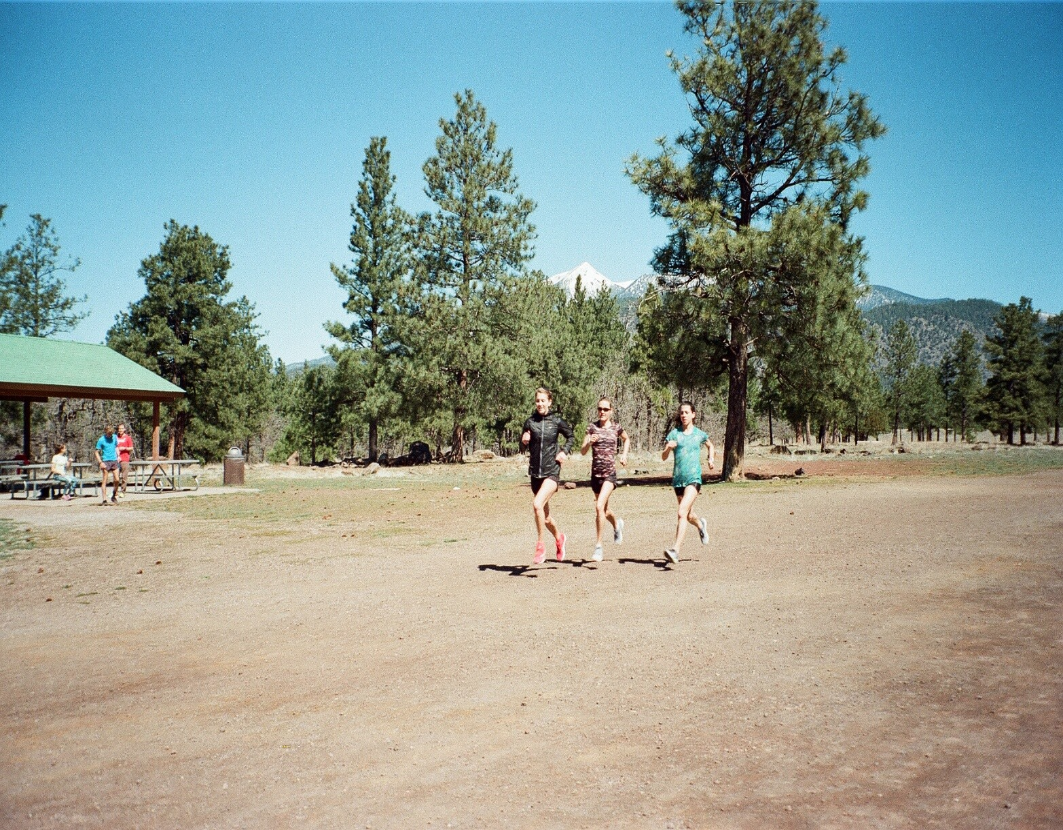 Me, Hilary Stellingwerff, and Andrea Seccafien finishing up a run at Buffalo Park. PC: Rob Denault.
I can't say I'm a big science person, but I can tell you this about altitude training: it hurts, and it works. Due to the decreased air pressure at altitude, every breath you take transports less oxygen to your bloodstream and working muscles, making it more difficult to breathe. When properly executed (adaptation, nutrition, training load, and recovery) this restriction of oxygen offers a positive training effect for endurance athletes by increasing their red blood cells and hemoglobin mass with the aim of improved aerobic performance. Once returning to sea level, the increase of one's plasma blood volumes gives a competitive edge over the competition, especially within the first few days of the re adaptation period.
On a personal level, the reason I have returned to Flagstaff for the last seven consecutive years is twofold. First, the science has proven to work for me: my HB Mass tests have shown an increase in red blood vessels and hemoglobin mass pre and post camp (see 2016 example below). Another validation of the science is evidenced by my performances (consistent PBs in keeping with my Yearly Training Plan).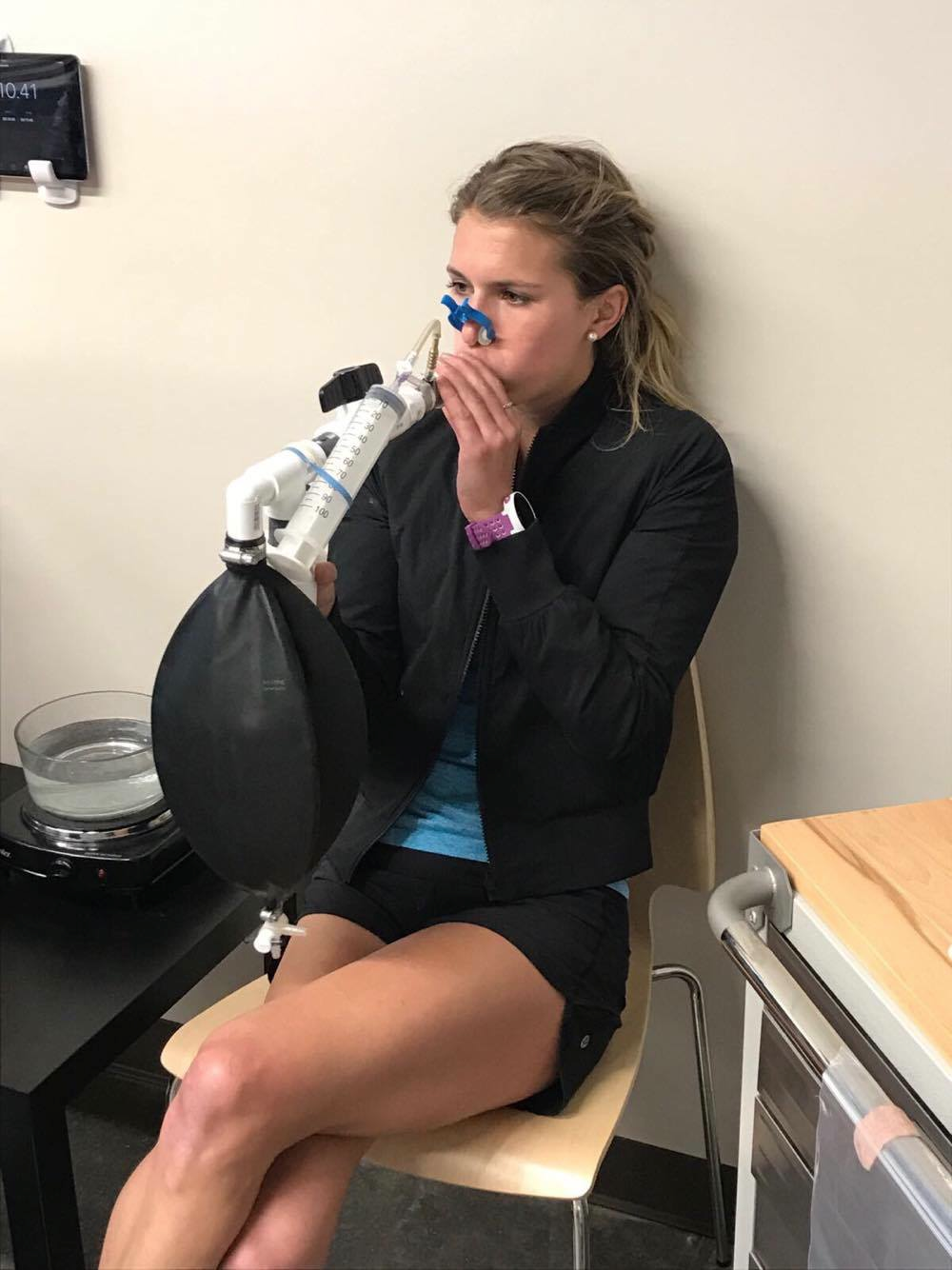 HB mass is measured by calculating the saturation of carbon monoxide (CO) bound to tHb-mass within the bloodstream, before and after breathing a known dose of CO. This is the gold standard for evaluating hemoglobin content, as it separates the impact of hydration by reporting in total grams rather than grams per litre of blood.
The below graphs, constructed by Trent Stellingwerff, Canada's lead physiologist, suggest I am genetically an "adaptor" to altitude, with a positive increase (6.1%) of hemoglobin mass (tHb-mass) between March 29th and April 25th, 2016. Unfortunately, this is not true for all athletes. For some, a number of altitude training factors cause negative effects on performance such as chronic fatigue, injury, or illness resulting in an energy deficit once returning to sea level. For these athletes, altitude training can cause more harm than good. So, physiologically I am one of the lucky ones, both in adjusting to altitude and performing well coming down from altitude!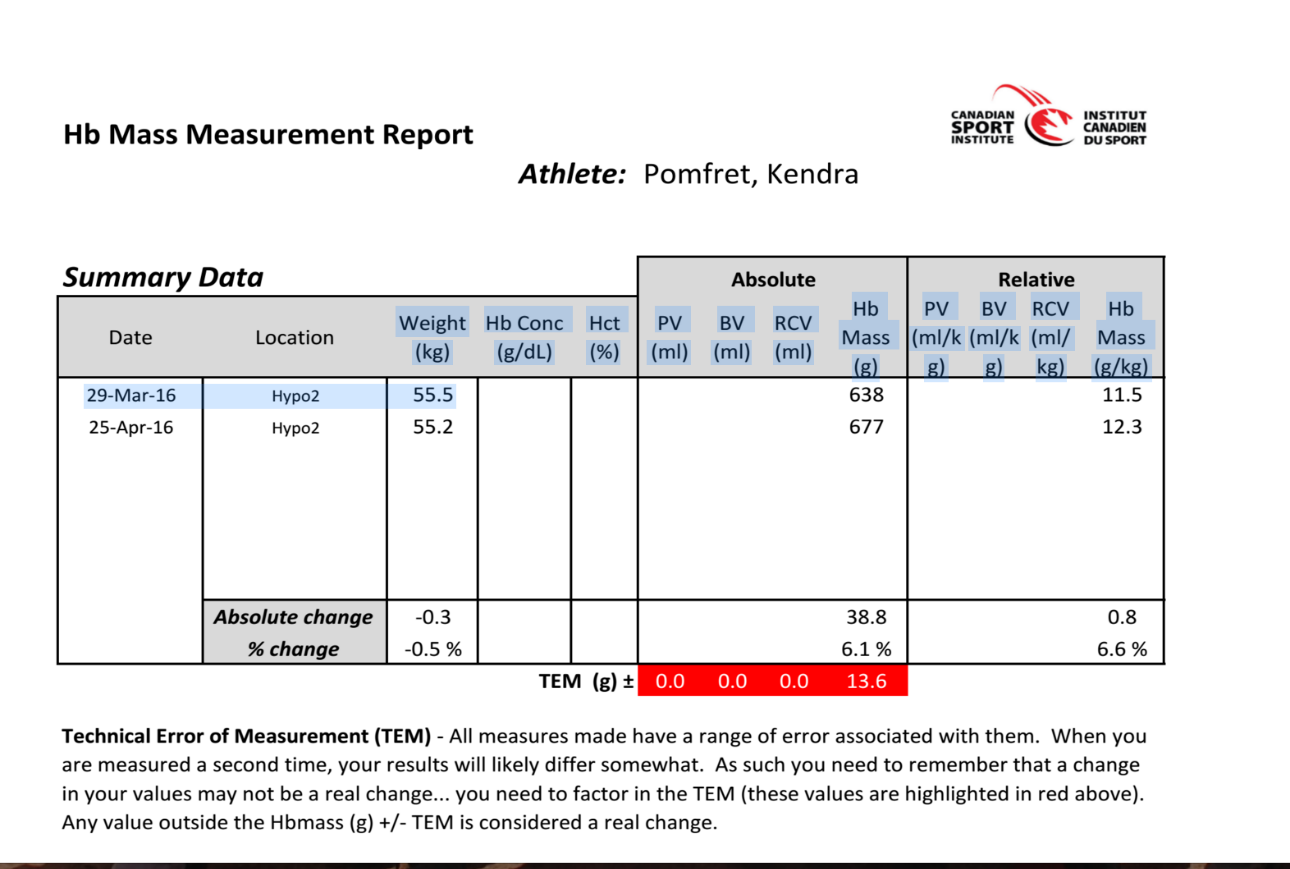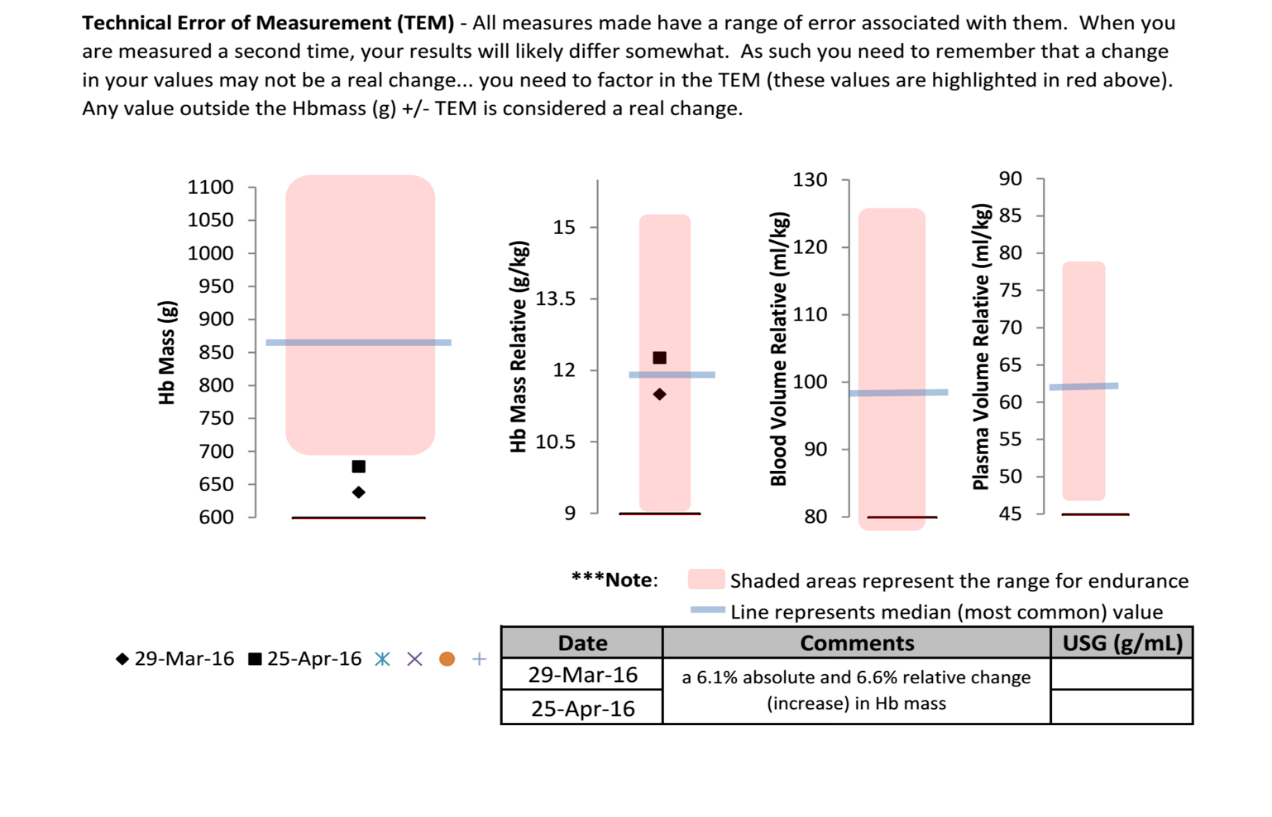 All data compiled by Trent Stellingwerff, CSI PACIFIC.
The second reason I've returned seven times to Arizona is because of the training camp environment Flagstaff facilitates each spring. It is equally, if not more, beneficial. Physically, the dry and warmer climate offer a refreshing change of scenery from Vancouver's seemingly endless rain/snowfall. I'd be lying if I said I wasn't heavily motivated this year by the sole thought of seeing a color OTHER than grey upon arrival. Psychologically, the camp fosters a community of like-minded athletes who share the same daily focus of maximizing daily training and recovery, and minimizing outside distractions (work, school, social life, etc.) Whenever I leave for Flagstaff, I always look forward to centering my focus on training and recovery above everything else. From hydration monitoring each morning to daily physiotherapy/massage/chiro availability, to the abundance of athletes pursuing their goals, I have no excuse but to put my best foot forward and make the most out of each day's training.
And yet despite knowing of this positive environment, I left Vancouver on April 2nd feeling somewhat nervous about how training would transpire. After a relatively rocky winter hampered by a few nagging injuries paired with general life changes and stress, I wasn't feeling overly confident about how my body was going to hold up, or whether I could handle the emotional drain of another interrupted training block. I reflected on the memory that last year I went to Flagstaff after just completing a walk-run program following two stress fractures; that helped calm the nerves a bit. Further, despite not having my best workouts leading into this camp, I held confidence in my coaches and program, and reminded myself to keep putting things in perspective, one day at a time.
I am fortunate to have two very supportive and dedicated coaches. Despite not having my best workouts leading in, I had full confidence in my program and kept reminding myself to control the controllable: run hard, cross train hard, and recover a lot harder. Jess O'Connell shared a phrase at the beginning of the camp that really resonates with me: TNT, meaning "Today Not Tomorrow." With this daily mindset, I managed to put my feet to the trail and track over the past month and get through some of the toughest workouts of my career. In doing so I left Flagstaff as a stronger runner - both mentally and physically - because of it.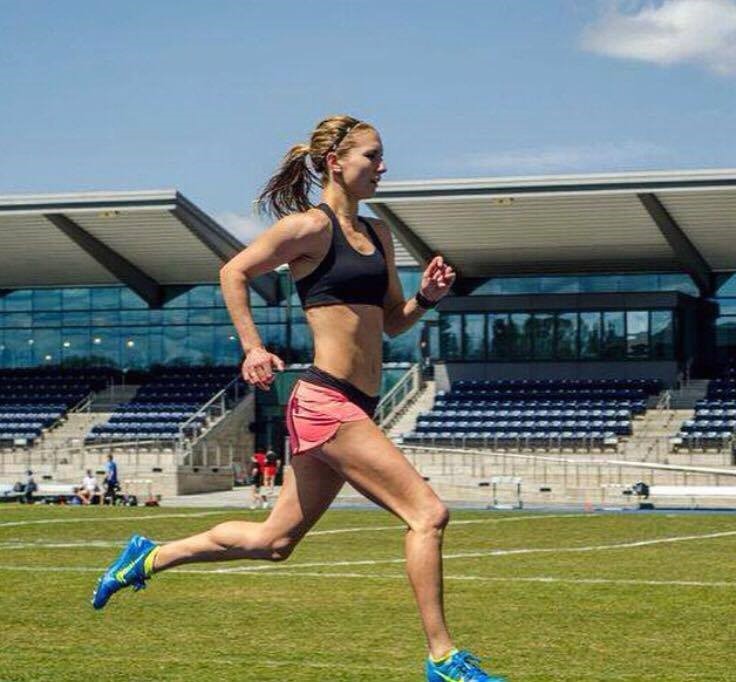 NAU University, PC: Jim MacDonald
To give a short recap, most weeks in Flagstaff consisted of 50-60 miles, with 2-3 workouts, a long run, and two weight sessions. This is similarly structured to a normal week back home, but with a higher focus on recovery between sessions and slower paced off day runs to compensate for the lack of oxygen. One major highlight was having my coach, Chris Johnson (CJ), attend a big workout in Cottonwood (3300 ft) over Easter weekend. After pooling his March Madness winnings, he generously flew into Arizona to get a feel for the AC West hub camp environment, some sunshine, and of course, the enjoyment of watching me suffer through a hard 1500m workout!
This past weekend l opened up my season at the Payton Jordan Invitational in the 1500m and I look forward to toeing the line the rest of the season healthy, determined, and optimistic. A big thank you to all the Athletics Canada staff, Hypo 2 Sport, and of course, CJ and Wynn for making this camp possible!
-Kendra Promfret, 1500m Runner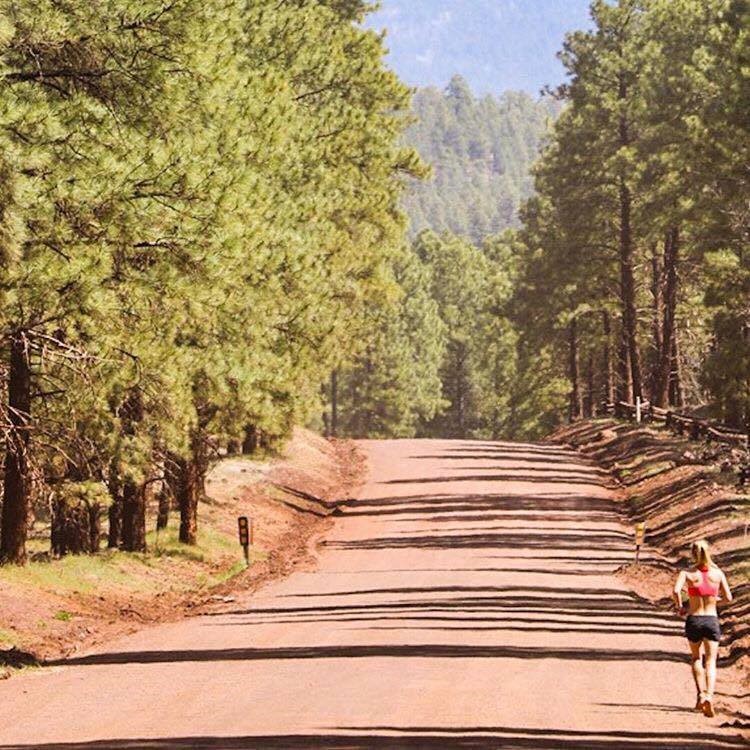 Woody Mountain Road, finishing up an 11 mile long run. Photo by Justin Britton, A runner's eye.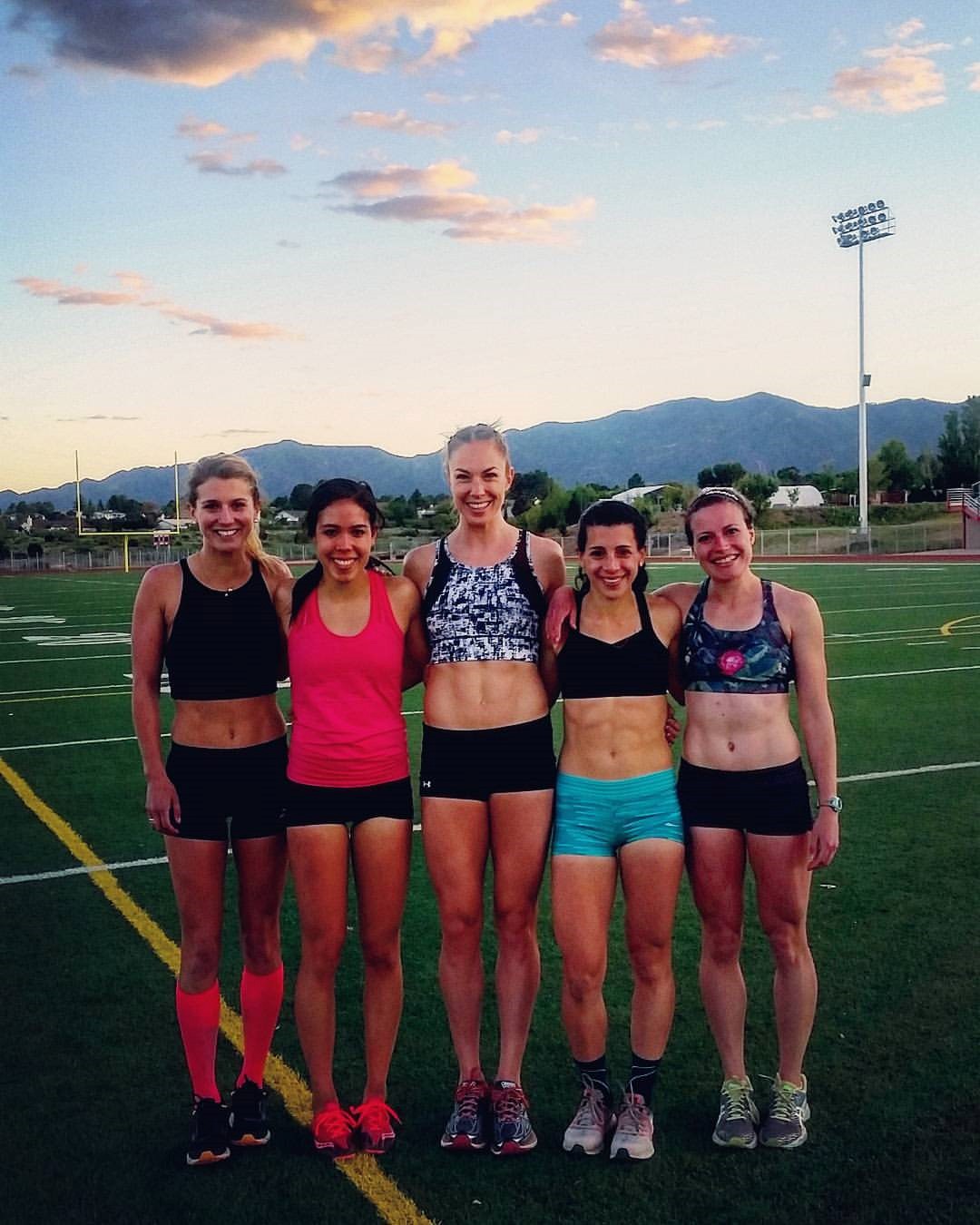 Me, Maria Bernard, Kate VB, Andrea Seccafien, and Jess O'Connel in Cottonwood, AZ post workout.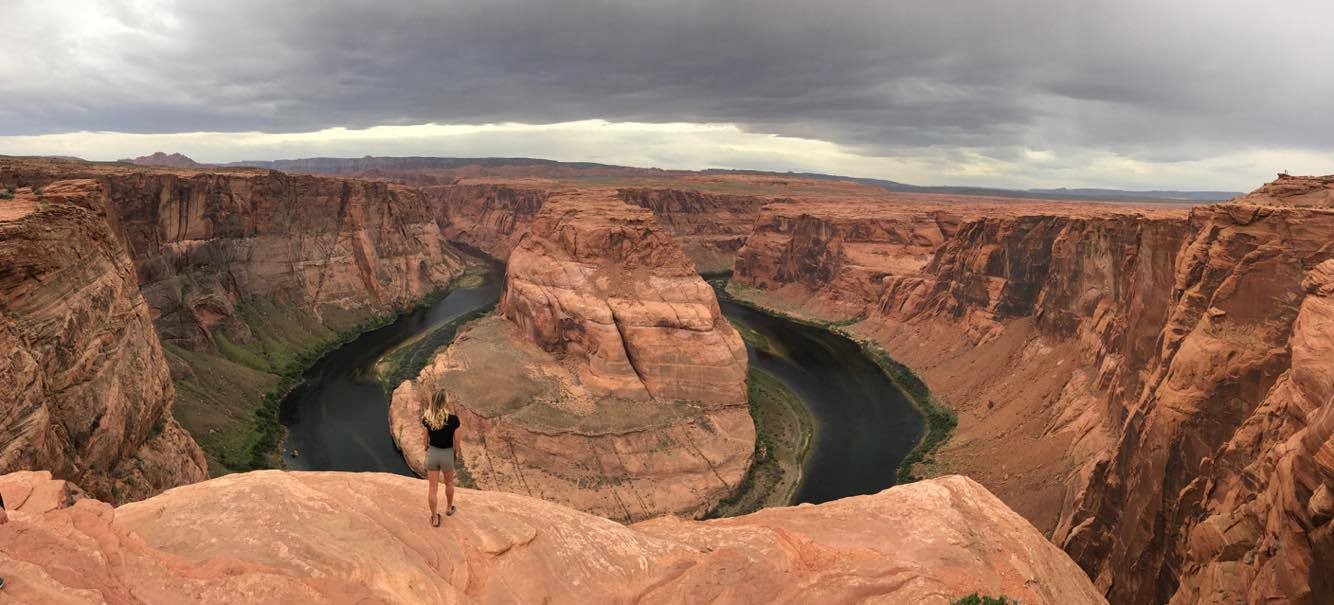 My sole full day off of the trip was well spent exploring with friends at Antelope Canyon and Horseshoe Bend! Photo by Daniel Block.