Congratulations To Our 2020 Grads!
June 26, 2020 14:47pm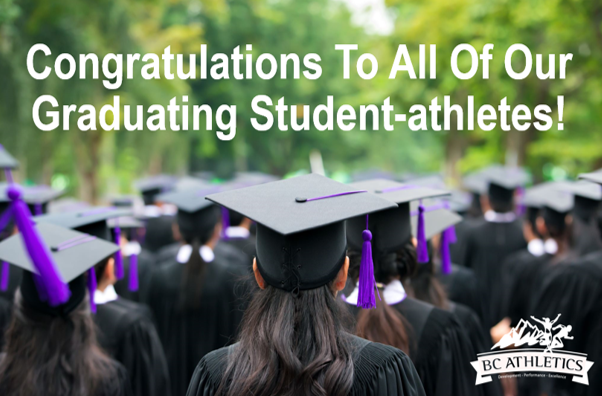 Congratulations to all of our Outstanding Graduating Student-Athletes!
Our BC Athletes are off to College! BC Athletics is proud to highlight and celebrate those student-athletes that have committed to pursue Athletics at the University & College Levels! Here is a list of BC Athletics Athletes, and where they will be attending school in the Fall of 2020. Athletes are listed alphabetically by their first name.
To add a name, please fill in the form here. If you have any questions, please contact the Technical Manager for Track & Field at chris.winter@bcathletics.org.
| | | | | | | |
| --- | --- | --- | --- | --- | --- | --- |
| Athlete | Event | Hometown | High School | Club | Coach | University |
| Aiden Grout | Jumps | Pitt Meadows | Maple Ridge Secondary | Langley Mustangs | Kevin Harrison | University of Toronto |
| Alicia Ranahan | Middle Distance | North Vancouver | Sutherland Secondary School | Hershey Harriers | Cindy O'Krane & Darcie Montgomery | Simon Fraser University |
| Alina Olson | Sprints | Maple Ridge | Maple Ridge Secondary | Langley Mustangs | Andrew Lenton | Trinity Western University |
| Andrena Johnson | Middle Distance | Chilliwack | Sardis Secondary School | Valley Royals Track & Field Club | Scott Svelander | University of Victoria |
| Aneel Gillan | Multi Events | Surrey | Semiahmoo Secondary | Ocean Athletics | Derek Fournier | California State University - Long Beach |
| Angélina Shandro | Sprints | Victoria | St. Michaels University School | Victoria Speed Project | Dacre Bowen | University of Toronto |
| Brendan Luccock | Sprints | Delta | Seaquam Secondary | Ocean Athletics | Michaela Colluney | Trinity Western University |
| Caleb Graham | Middle Distance | Chilliwack | Unity Christian School Club | Chilliwack Track Club | Sue Northey | UBC - Okanagan |
| Caleigh O'Flaherty | Combined Events | North Vancouver | St. Thomas Aquinas | New West Spartans | Tatjana Mece | Illinois State University |
| Carly Seemann | Sprints | Coquitlam | Dr. Charles Best Secondary | Coquitlam Cheetahs | Tara Self | Simon Fraser University |
| Cassidy Cardle | Race Walk | Langley | Walnut Grove Secondary | Unattached | Robert Solmes | University of British Columbia |
| Charlotte Prangley | Middle Distance | North Vancouver | Argyle Secondary School | Hershey Harriers | Cindy O'Krane & Darcie Montgomery | Simon Fraser University |
| Chase Haagensen | Sprints | Victoria | Reynolds High School | Unattached | Jaritt Ptolemy | University of British Columbia |
| Chisom Obioha | Golden Ears Athletics | Maple Ridge | Meadowridge School | Golden Ears Athletics | Rick Lloyd | University of British Columbia |
| Daylana Ferguson | Middle Distance | Langley | Walnut Grove Secondary | Langley Mustangs | Mark Bomba | St. Marys College of California |
| Delaney Chan | Middle Distance | Victoria | Oak Bay High School | Prairie Inn Harriers | Bruce Deacon | University of Victoria |
| Drew Sundberg | Jumps | Powell River | Brooks Secondary School | Unattached | Connie Polman Tuin & Scott Glaspey | University of Saskatchewan |
| Dylan Uhrich | Middle Distance | Vancouver | Sir Charles Tupper | Vancouver Olympic Club | Besnik Mece | University of British Columbia |
| Emma Jean Neal | Middle Distance | Vancouver | Sentinel High School | Royal City Track Club | Sean Dixon | University of British Columbia |
| Emma Kearns | Middle Distance | Surrey | École Salish Secondary School | Ocean Athletics | Ted de St. Croix | UBC - Okanagan |
| Eniko Sara | Throws | Langley | Ecole Salish Secondary | Royal City Track and Field Club | Kevin Smith | Northern Arizona University |
| Felix Allen | Sprints / Hurdles | Langley | R.E. Mountains | Langley Mustangs | Andrew Lenton | Simon Fraser University |
| Haley Riberio | Middle Distance | Surrey | École Salish Secondary School | Coastal Track Club | Scott Kent | UBC - Okanagan |
| Harrison Trustham | Sprints / Hurdles | Mission | Mission Secondary School | Langley Mustangs | Andrew Lenton | Simon Fraser University |
| Isaiah Collins | Multi Events | Penticton | Penticton Secondary | Okanagan Athletics Club | Pat Sima-Ledding | University of Western Ontario |
| Jaiveer Tiwana | Middle Distance | Surrey | Fleetwood Park Secondary | Coastal Track Club | Scott Kent | University of British Columbia |
| Jake Schmidt | Jumps | Langley | Langley Fine Arts School | Langley Mustangs | Andrew Lenton | Simon Fraser University |
| Jaxon Slaney | Middle Distance | Kelowna | Rutland Senior Secondary | Okanagan Athletics Club | Malindi Elmore | University of British Columbia |
| Jeremiah Mackie | Middle Distance | Surrey | Earl Marriott Secondary School | Coastal Track Club | Scott Kent | Gonzaga University |
| Jesula McCallum | Sprints | Chilliwack | Chilliwack Secondary | Valley Royals | Trevor Wight | Trinity Western University |
| Jonah Brost | Middle Distance | North Saanich | Stelly's Secondary | Prairie Inn Harriers | Bruce Deacon | University of British Columbia |
| Jonathan Toews | Sprints | Surrey | South Delta | Coastal Track Club | Scott Kent | Trinity Western University |
| Juliette Desvaux | Sprints | Parksville | Ballenas Secondary School | Mid Island Distance | Kim & Randy Longmuir | University of British Columbia |
| Kallalei Ryden | Middle Distance | Gibsons | Elphinstone Secondary School | PaceSetter Athletic Run Club | NA | University of Victoria |
| Keagan Ingram | Middle Distance | Summerland | Summerland Secondary School | Okanagan Athletics Club | Malindi Elmore | University of Victoria |
| Keaton Heisterman | Middle Distance | Nanaimo | Brentwood Bay | Nanaimo Track & Field Club | Tyler Heisterman | UCLA |
| Kendra Lewis | Middle Distance | Vancouver | Vancouver Technical Secondary | Vancouver Olympic Club | Besnik Mece | Villanova University |
| Lindsay Maier | Sprints | Kelowna | Kelowna Secondary School | Okanagan Athletics Club | Pat Sima-Ledding & Malindi Elmore | University of British Columbia |
| Madison Stoochnoff | Middle Distance | Delta | Holy Cross | Coastal Track Club | Scott Kent | Simon Fraser University |
| Maggie Graydon | Middle Distance | Pitt Meadows | Pitt Meadows Secondary | Coastal Track Club | Scott Kent | Simon Fraser University |
| Makayla Dickinson | Sprints | Victoria | Oak Bay High School | Athletics Victoria | Duncan Johnson | University of Lethbridge |
| Maya Kobylanski | Middle Distance | Surrey | Southridge School | Ocean Athletics | Ted de St. Croix | University of Idaho |
| Michael O'Flynn | Jumps / Throws | North Vancouver | St. Thomas Aquinas Regional Secondary | NorWesters Track & Field Club | Dawn Copping / Elena Voloshin | Acadia University |
| Michelle Dadson | Throws | New Westminster | Saint Thomas Moore Collegiate | South Surrey Athletics | Don Alemeersch | University of British Columbia |
| Nanaki Sangha | Middle Distance | Surrey | Enver Creek Secondary | Coastal Track Club | Scott Kent | University of British Columbia |
| Naomi Reisdorf | Middle Distance | Langley | Walnut Grove Secondary | Langley Mustangs | Gary Lutes / Don Sparks | Trinity Western University |
| Nico Aron | Middle Distance | Maple Ridge | Maple Ridge Secondary | Coastal Track Club | Scott Kent | Simon Fraser University |
| Olivia van Ryswyk | Jumps | South Surrey | Earl Marriott Secondary | Ocean Athletics | Len van Ryswyk | University of Alberta |
| Prab Wickramaarachchi | Sprints | Langley | Walnut Grove Secondary | Universal Athletics | Jessie Dosanjh | University of Idaho |
| Quinn Cameron | Multi Events | North Vancouver | Sutherland Secondary School | NorWesters Track & Field Club | Elena Voloshin / Chris Weiss / Dawn Copping | University of Western Ontario |
| River Sanoy | Sprints | Victoria | | Athletics Victoria | Duncan Johnson | University of Calgary |
| Samantha Ogbeiwi | Sprints | Surrey | North Surrey Secondary | Coquitlam Cheetahs | Tara Self | University of Guelph |
| Shaunika Suriya | Multi Events | White Rock | Earl Marriott Secondary School | Coastal Track Club | Scott Kent & David Moore | University of British Columbia |
| Sheleena Wiley | Sprints | Langley | Langley Fundamental Secondary School | Langley Mustangs | Andrew Lenton | Trinity Western University |
| Tyler Wilson | Race Walk | Surrey | Lord Tweedsmuir High School | Ocean Athletics | Robert Solmes & Ted de St. Croix | University of British Columbia |
| Will Rice | Middle Distance | Powell River | Brooks Secondary School | Powell River Track Club | Graham Cocksedge | University of Saskatchewan |
| Zachariah Wergeland | Throws | Langley | Langley Christian School | Langley Mustangs | Shane Wiebe | Trinity Western University |
| Zuzanna Liniewski | Throws | Burnaby | Burnaby North Secondary | Royal City Track & Field | Kevin Smith | Simon Fraser University |