Training During COVID-19 with Olympian Luc Bruchet
April 21, 2020 15:32pm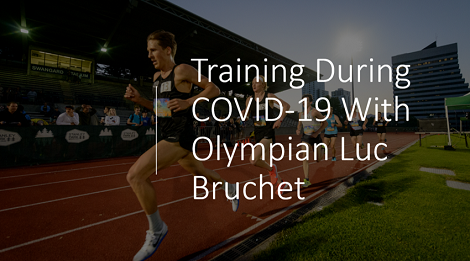 COVID-19 and the resulting Physical Distancing measures have left me, like the rest of you, questioning things on a regular basis. Training and competing are at the forefront of these thoughts. For the first few weeks of this pandemic I found myself in a funk. I had just spent close to two months away at a training camp, I was rather fit, and I was excited to get the track season underway. Then the COVID-19 situation escalated and put everything in jeopardy. Team practices were cancelled, so were the races, all the fun things I enjoy about track & field were being sucked away. I know I had to make a change or this was going to be a long and challenging period. So after sulking a bit, and chatting with friends and family I did a little review of things. After a period of reflection I arrived at the following three factors that have really helped me stay positive and keep the ball rolling!
1. Create a Routine! Trying to follow a simple plan has helped me stay on track during these tumultuous times. On a weekly basis I have scheduled my runs and workouts. Even though the training load has been reduced having it planned out gives my week structure. It isn't super fancy, but I find keeping to a routine keeps my outlook positive and I find I'm looking to the daily runs and the few opportunities I have to push myself.
​2. Have Fun! At the end of the day we all compete because we love the sport of track and field. The reason many of us first started in the sport was simply because we enjoyed it. For me this meant getting back to training I really enjoyed. With no races on the calendar I have more freedom with training, so I have mixed in certain things I find fun! For me that has been some short hill sprints and little bit of cycling. Even though these aren't huge changes, they have made some of the training new and fresh, that little switch has made training more enjoyable.
​3. Stay Motivated! The final aspect I have incorporated into this time is finding new ways to stay motivated. With no races for the foreseeable future this has been challenging for me to define. Luckily, I have been keeping myself motivated by chasing local Strava segments around my neighbourhood. This may look different for you, but I encourage you to be creative in finding some inner motivation. It could be a new training PB, a new weightlifting PB, or even setting goals about the next time you can compete.
Lastly, with our current physical-distancing guidelines not only has training been affected, but so have our treatment options. Massage, physio and chiro can all be important aspects of training and recovery and this has also forced me to be creative. Grab a foam roller, golf ball or any other object you can get into those tight muscles, 1-2 minutes on each usually does the trick to release the tension. Many physiotherapists have also moved on to some form of tele-health so, if there are major issues you can always connect digitally and work through your problems with them. With all the time you have at disposal these days they are no excuses for not doing your physio exercises!
I hope everybody is healthy and being smart and safe. This are important times for us to follow the suggestions by our health professionals. Maybe if we all do a great job we might be able to run a track race or two by the end of summer!
About Luc
Age: February 23rd, 1991
Hometown: Vancouver
Birthplace: White Rock
High School: Elgin Park
University: University of British Columbia
Events:
1500M - 3:39.13
3000M (i) - 7:52.8
3000M (o) - 7:46.89
3000M S/C - 8:54.94
5,000M - 13:24.1
10,000M - 28:36.74
Career Highlights:
3x Canada Cross Country Champion (2013, 2017, 2018)
2017 Canadian Track & Field Championships (5,000M, 3rd)
2016 Olympian (5,000M, 37th)
2015 Pan Am Games (5,000M, 8th)
2013 World University Games Finalist (5,000M, 9th)
Sub-4 minute miler (3:57)
Twitter: @Lucabruca
Instagram: @Lucabruca