Staying Positive During the Pandemic With 2019 NCAA Hammer Champion Camryn Rogers
May 4, 2020 18:19pm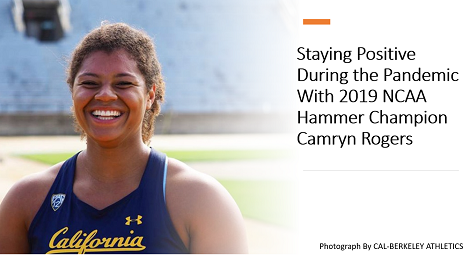 I do not think any of us could have guessed or planned for what has happened thus far in 2020. By nature, I am an extremely happy person, a characteristic easily recognized by those who know me. I am always full of energy, love to have fun, and can find the positives in any situation. These are unprecedented times. Difficult and frustrating times. In early March, I came home for a weekend visit and in that time, things changed drastically. The borders closed, I couldn't get back to school, all my clothes and personal belongings were and continue to be in California, and I was removed from my teammates and the comfortable environment of my school. Shortly after the NCAA collegiate season was cancelled, then Athletics Canada made the decision to not send a team to Tokyo 2020 unless there was a postponement; the world completely shut down.
Recently, I have taken a step back to fully analyze every layer of this situation. I was, as many were, upset when the pandemic initially hit. It took time for me to find that happy little spark but, having the time to reflect and gather insight on all the positive things in my life has allowed me to push forward with unrelenting persistence.
An important factor that has helped keep me positive is finding new ways to train. With gyms (and my home throwing circle) being closed temporarily, I have had the opportunity to figure out new ways in which to train my body, maintain my fitness, and continue to learn and improve. I got my hands on whatever I could and started doing backyard workouts with kettlebells, simple weights, even old textbooks! By being creative and improvising to do whatever it took to workout immediately boosted my momentum.
Another opportunity that has made a huge difference have been taking the time to reach out to my friends, teammates, and coaches. While at school, even in normal times, I can find it difficult to keep in touch with friends and family, and for me that is crucial. With training, classes, and studying these leaves little time for social opportunities. The extra time that this crisis has afforded me has given me the ability to focus on the bonds I have with people, and it has added so much joy to my day to day life! Being able to connect on the current pandemic and our experiences has helped me remember something else incredibly valuable: we are not alone.
One of the most significant things I appreciate is the time I have now to be at home with my family. Being an international student studying in the US, as well as having incredible opportunities to compete in other countries, I often only have a few weeks to spend at home year year. And, when I am home most of that time I am still training or trying to catch up with as many people as I can before leaving again. But now I am able to go on nature walks every other day with my mom, read by the ocean, and do little activities that bring me enjoyment - these are the ones that count.
The little things are what make the biggest difference during tough times. It is our passions and the important people in our lives who will keep us moving with our eyes on the prize. As I write this there are 444 days until the Tokyo Olympics; I will make every single one of these days count. All with a smile on my face and hunger in my heart.