Django Lovett Raises the Bar Ahead of the 2018 Commonwealth Games
February 6, 2018 12:15pm
Growing up in Langley, BC Django saw early success in his primary event, the high jump, winning the BC High School Championships in grades 10, 11, and 12 and, in 2009 he set a new Canadian Youth Record with a brilliant jump of 2.17m to capture the Bronze medal at the World Youth Championships in Italy. Django went on to find great success as a student-athlete at the University of New Mexico where he racked up multiple conference championships, set a new school record of 2.21m, and made three appearances at the NCAA Championships.
Since graduating from UNM in 2015 he has committed to training full time and working towards qualifying for the Olympics, World Championships, and other major global events. Under the guidance of coach Ziggy Szelagowicz and the Valley Royals Track & Field Club he has seen a steady increase in performance and just last month he was named to Team Canada for the 2018 Commonwealth Games, in the Gold Coast of Australia. BC Athletics caught up with Django to talk to him about his recent performances and his goals for 2018.
BC Athletics: Congratulations on your recent naming to Team Canada for the 2018 Commonwealth Games in the Gold Coast. While you are no stranger to National Teams this will be your first Major Games Team. What does it mean to you to have been named to a team of this significance?
Django: To me, being named to this team is a reassurance that I am on track to fulfilling my potential and realigning and orienting my athletic career towards greater accomplishments and future major games teams. Ultimately, it gives me an increased confidence moving forward in my athletic career.
BC Athletics: With the Commonwealth Games being held early in the year (April 2018) your season outlook will look a lot different. Is there anything that you and Ziggy are doing differently this Winter to help you prepare to be at your peak come the Commonwealth Games?
Django: Being that the games are being held so early in the season, Ziggy and I have adapted the training to ensure that I peak for the games. Easing off the training volume and dropping the weights sooner, while adding more competitions sooner, in the year, will best tapper me for the games and have me in peak competition condition at the right time.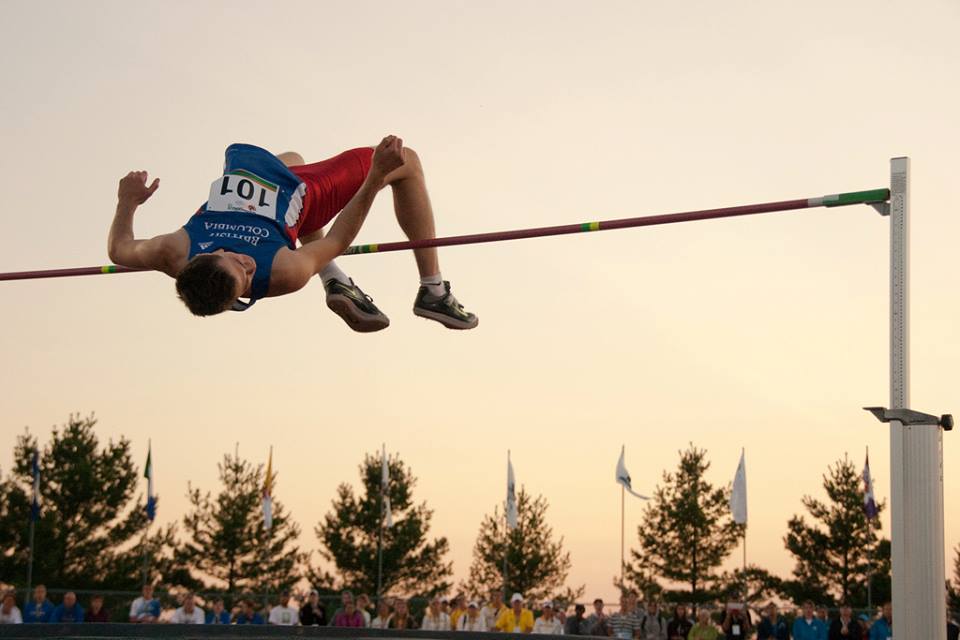 BC Athletics: Just last weekend you set a new PB at the UW Invitational Meet in Seattle jumping 2.29m to win the meet. This was a significant improvement for you, improving on your previous best of 2.27m set last Spring. It appears that your prep for the Games is well on track, how did you feel about the performance?
Django: I felt reassured as a high jumper. As exciting as it was to clear 2.29m, I was very much overcome with a feeling of relief, knowing all of the work and sacrifices I have been making over the years are worth it. In a sense, it was a validation of my ability and the choices I have been making.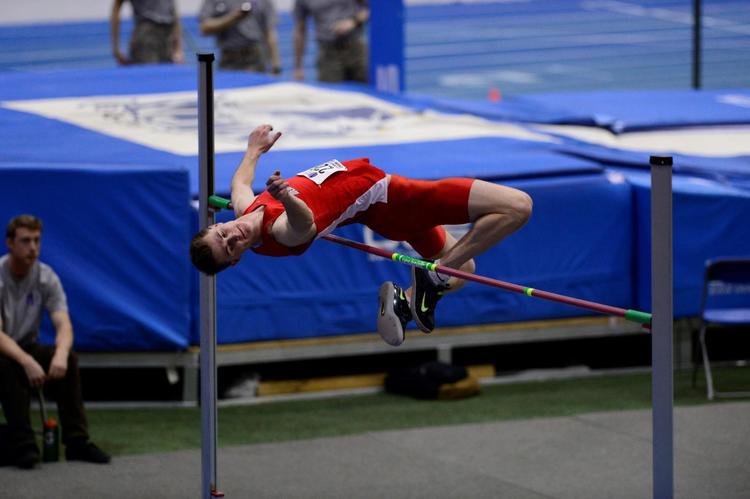 BC Athletics: What was your prep like going into this meet? Did you have any indication in your training that a big jump was coming?
Django: Moving into competition week, I was rather sore from a previous heavy week of training. Heavy legs and general fatigue. So we took competition week rather easy and dialled things back quite a bit with only two training sessions in the week and had pleanty of rest days. But still, I had no immediate indication that I was about to pop off such a big jump, but these big jumps are always in the back of my mind, looming. It was a great surprise.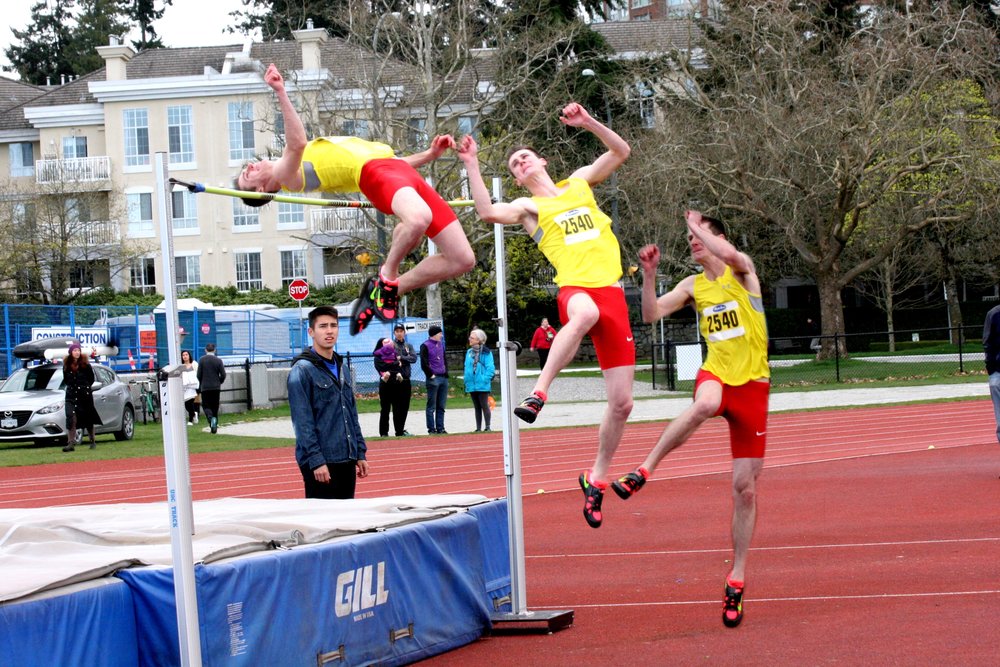 BC Athletics: For the past few years you have been training with Ziggy and the Valley Royals Track & Field Club. What made you first decide to work with Ziggy and how important has his program been for you and your development as an athlete?
Django: Going back to 2008, at the BC high school championships, I was introduced to Ziggy by fellow friends, classmates, and Valley Royal athletes, Spencer Prince and Jared Heldman who had been having success developing under Ziggy. It was their influence that led me to Ziggy and ignited a brilliant partnership between Ziggy and myself. Almost immediately, I began to see success under his program and earned global honours after just the first year, of working with him. I owe nearly all of my success to Ziggy. I have yet to meet anyone who has the capacity to actualize potential and confidence in an individual, quite like Ziggy. With Ziggy's experience, a decade later, I am still developing as an athlete and learning more about what it is, to be a world class high jumper.
BC Athletics: As mentioned earlier, you have been a top performing high jumper for over a decade now and on paper your improvement has appeared to be fairly consistent. Has this been the case or has there been any adversity along the way that made you doubt your ability to reach the level you are now at today?
Django: I wish I could say it's been easy, but it's been anything but that. Up until last year, It has been more a story of struggle and overcoming adversity than that of glory and success. Self-doubt, injuries, and adjusting to new training programs have been obstacles that have played their part, obstructing me along the way. Over the years, I have learned to respect the processes, how to manage adversity, and to overcome such obstacles. High jump has taught me the virtues of patience, humility, and resilience. In addition to good coaching, these three virtues have been the key to my success in high jump.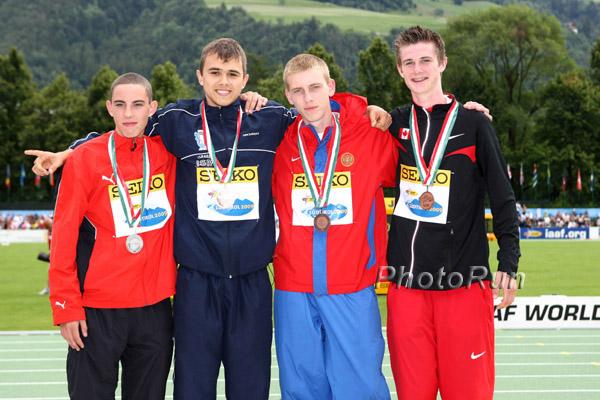 BC Athletics: Most people on this planet will never jump 2.29m in the high jump. Can you describe how that feels? What do you have to tell yourself before you jump that it is possible?
Django: The feeling is a sensation of flow. Shutting off the mind and letting the body do its thing. Before a jump, overthinking is a distraction that can lead to hesitations and second guessing; which, more likely than not, will lead to a failed attempt. To avoid that, I quickly visualize a successful jump, then I do my best to shut my mind off and go for it.
Thank you Django for taking the time to speak with us and good luck in your upcoming competitions.
-Chris Winter, BC Athletics