Coaching Education
Course Calendar
Courses are listed as athletics courses, multi-sport or available anytime

Note sure which course is right for you? Click here to find out
Don't see a course you are interested in below? Submit an interest form or request to host.
Need financial assistance? See our grants and bursary page
Date

Course

Location

Link for more info and registration

NCCP Athletics Courses

Oct 20-23
Performance Coach

Toronto, Ont

Oct 22
Make Ethical Decisions
Online
POSTPONED
Oct 28
National Jumps Summit
Toronto, Ont
Nov 11-12
NCCP Club Coach Sprints/Hurdles online course
Online, Ont
Register here
Nov 4/5
Club Coach - Sprints
Prince George
Register Here
Nov (TBD)
Foundations of Coaching
Online
Info to come
Nov (TBD)
Sport Coach Technical

Richmond - Kajaks

POSTPONED
Nov 3-6

Performance Coach

Endurance, Jumps, Throws will be available.

Saint John, NB

Nov 17
National Speed Summit

Saskatoon, SK

Click here to register
Nov 20/27
Managing Conflict
Online
Register here
Nov 24
National Endurance Summit
Halifax, NS
Register here
Nov (TBD)
Foundations of Coaching

Online

Info to come

Dec 2
National Mentorship Program Kick Off

Edmonton, AB

Dec 9
National Endurance Summit

Halifax, NS

Jan (TBD)
NCCP Pathway/Certification Info Session
Zoom
Info to come
Feb 4/11
Foundations of Coaching
Online
Info to come
Feb 16
RJTW
Vancouver
Infor to come
Feb 26
Make Ethical Decisions
Online
Info to come
Mar 2/3
Sport Coach Technical
Lower Mainland (TBD)
Info to come
Mar 2/3
Sport Coach Technical + RJTW
Nanaimo
Info to come
Mar 9/10
Club Coach Technical
Lower Mainland (TBD)
Info to come
Apr 6/7
Sport Coach Technical
Lower Mainland (TBD)
Info to come
Apr 6/7
Sport Coach Technical + RJTW
Okanagan
Info to come
Apr 6/7
Sport Coach Technical + RJTW
North
Info to come
Apr 11/18
Foundations of Coaching
Online
Info to come
Apr 14/15
Club Coach Technical
Island or Okanagan (TBD)
Info to come
Apr 22/29
Foundations of Coaching
Online
Info to come

May 19th

Make Ethical Decisions
Online
Info to come
May (TBD)
NCP Certification Info Session
Zoom
Info to come

Multi-Sport Courses
Various
All NCCP Multi-Sport Courses offered through viaSport
Online
Find schedules Here
Courses Available Any Time
Anytime
Athletics NCCP Performance Coach Pre- Learning (Required for Performance Coach)
e-learning online
Click here for link
(login to locker to access)
Anytime
Long Term Athlete Development for Athletics (Required for Sport/Club Coach)
e-learning online
Click here for link
(login to locker to access)
Anytime
NCCP Emergency Action Plan
(Requried for Sport/Club Coach)

e-learning online

Click here for link
(login to locker to access)

Anytime
NCCP Leading Drug Free Sport
(Required for Performance Coach)

e-learning online

Click here for link


(login to locker to access

Anytime
Fundamentals of Athletics (great for parents or coaches just getting started!)

e-learning online

Click here for link
(login to locker to access)
Anytime
Competition Management for Team Coaches at Canada Games

e-learning online

Click here for link
(login to locker to access)
Anytime
Officals 101 and 102

e-learning online

Click here for link
Anytime
Professional Development Webinars
Online
Click here for link
Important Course Info
Summary of Completed NCCP Courses

Date
Location
Course
Sept 23/24
Fort Nelson
Club Coach Enduance + Foundations
Sept 17/24
Online
Foundations of Coaching
June 27
Dawson Creek
Run Jump Throw Wheel
July 14
Langley
Harry Jerome Mentorship
2023 June 11
100 Mile House
RunJumpThrowWheel
2023 June 7
Online
Make Ethical Decisions
2023 June 6
Online
Certification info session
2023 May 27
Smithers
RunJumpThrowWheel
2023 May 6/7
UBC
Club Coach Technical
2023 April 30
Prince George
RunJumpThrowWheel
2023 April 28/29
Burns Lake
Sport Coach Technical
2023 April 23/30
Online
Foundations of Coaching
2023 April 22/23
Powell River
RJTW + Sport Coach Technical
2023 April 15/16
Kelowna
RJTW + Sport Coach Technical
2023 April 5/12
Online
Foundations of Coaching
2023 April 1/2
Prince George
Club Coach Full or Just Technical
2023 April 1/2
South Surrey
Sport Coach Technical
2023 March 30
Prince George
Make Ethical Decisions
2023 Mar 18/19
Victoria
Sport Coach Technical
2023 Mar 4/5
Nanaimo
RJTW + Sport Coach Technical
2023 Mar 4/5
Prince George
Sport Coach Technical
2023 Mar 4/5
Richmond
Sport Coach Technical
2023 Feb 28
Online
Make Ethical Decisions
2023 Feb 13/20
Online
Foundations of Coaching
2023 Feb 12/26
Online
Foundations of Coaching
Nov 19
Terrace
Road Running Leader Course
Oct 6-10
Langley
Performance Coach
Sept 24-25
Nanaimo
Sport Coach Technical
Sept 18 & 25, 2022
Online
Foundations of Coaching: Theory modules of Sport and Club Coach
July 12, 2022
Online
Make Ethical Decisions
June 24, 2022
Terrace
RJTW
June 18, 2022
100 Mile House
RJTW
April 23-24
Kelowna
Sport Coach
April 16-17, 2022
Victoria
Sport Coach
April 9-10, 2022
Penticton
Club Coach throws and endurance
April 2-3, 2022
North Delta
Sport Coach
April 2-3, 2022
Nanaimo
Club Coach jumps and throws
Mar 30, 2022
Online
Foundations of Coaching
Mar 12-13, 2022
South Surrey
Club Coach Sprints, Jumps and Endurance
Mar 6-11, 2022
Online
Coaching and Leading Effectively
Mar 5-6, 2022
Massett
Sport Coach
Mar 5-6, 2022
Squamish
Sport Coach
March 1, 2022
Online
Make Ethical Decisions
Feb 27, 2022
Burnaby
Run Jump Throw Wheel
Feb 20 - 27, 2022
Online
Foundations of Coaching
Feb 15, 2022
Online
Managing Conflict
Feb 6, 2022
Online
Make Ethical Decisions
Feb 1, 2022
Online
Manage A Sport Program
Jan 31, 2022
Online
Foundations of Coaching
Jan 18, 2022
Online
Pyschology of Perfromance
Nov 21 - 28, 2021
West Van
Sport Coach Technical
Nov 6-7, 2021
Nanaimo
Sport Coach Technical
Oct 30-31, 2021
Surrey
Sport Coach Technical for Masters Athletes
Oct 18 and 25 2021
Online
Foundations of Coaching: Theory modules of Sport and Club Coach
Oct 2-3, 2021
Vancouver
Sport Coach Technical
Sept 2021
Online
Foundations of Coaching: Theory modules of Sport and Club Coach
Sept 2021
Penticton
Sport Coach Technical
June 14-28
Online
Foundations of Coaching: Theory modules of Sport and Club Coach
May 25-June 1
Online
Foundations of Coaching: Theory modules of Sport and Club Coach
May 10-17
Online
Foundations of Coaching: Theory modules of Sport and Club Coach
Nov 27-29
Online
NCCP Sport Coach
Nov 22-26
Online
Performance Summit 2020
Nov 25
Online
Effective Coaching Strategies for the High Performance Coach (Webinar 3 of 3)
Nov 14-15
Nanaimo
NCCP Sport Coach
Nov 7-12
Online
2020 BC Throws Summit
Oct 28th
Online
Effective Coaching Strategies for the High Performance Coach (Webinar 2 of 3)
Oct 7th
Online

Sleep as A Crucial Factor for Maximizing Peak Performance

Sept 30th
Online
Effective Coaching Strategies for the High Performance Coach (Webinar 1 of 3)
July 9th
Online

Relative Energy Deficiency in Sport: Performance and Health Implications in Track & Field

May 6-27
Online
Foundations of Coaching in Athletics Online Modules (theory modules of Sport, Club and Road Running Coach)
March 8, 2020
Burnaby
All Youth Matter: Youth Inclusion Course
Jan 25, 2020
Burnaby
2020 Performance Summit
Jan 18-19, 2020
Victoria
NCCP Sport Coach Track and Field
Jan 18-19, 2020
Richmond
Wheelchair Athletics Coach Development
Nov 16-17th, 2020
South Surrey
NCCP Road Running Instructor Course
Nov 16-17th, 2020
South Surrey
NCCP Sport Coach Track and Field
Nov 15th, 2020
Langley
NCCP Making Ethical Decisions
Nov 8-10th, 2019
Richmond
2019 BC Throws Summit
Oct 26th, 2019
Victoria
Mentorship: BC XC Championship
Oct 25-27th
Nanaimo
NCCP Club Coach Throws
Oct 5-6th
Penticton
NCCP Sport Coach
Oct 5-6th
Penticton
NCCP Road Running Instructor Course
Sept 27th
Victoria
NCCP Making Ethical Decisions
Sept 7th
Victoria
NCCP Run Jump Throw Wheel
June 20th, 2019
Burnaby
Harry Jerome Mentorship
May 24-27th, 2019
Kelowna
NCCP Sport Coach
May 24-28th, 2019
Kamloops
NCCP Sport Coach + MED
May 17-19th, 2019
South Surrey
NCCP Club Coach
May 10-12th, 2019
Prince George
NCCP Club Coach
April 26-28th, 2019
Burnaby
NCCP Sport Coach
April 19-22*, 2019
Richmond
NCCP Performance Coach
March 29-31, 2019
Nanaimo
NCCP Club Coach
March 14th, 2019
Burnaby + Online
Seminar: Applications of Performance Testing
March 1-3rd, 2019
Powell River
NCCP Sport Coach + MED
Feb 27 -28th, 2019
Victoria
NCCP RunJumpThrowWheel
Oct 1-2, 2016
Victoria
NCCP Club Coach (Para Techincal Only)
Sept 23-25, 2016
Vernon
NCCP Sport Coach
Sept 23-25, 2016
South Surrey
NCCP Club Coach (Endurance, Sprints & Hurdles)
Sept 24, 2016
South Surrey
NCCP Multi-Sport Make Ethical Decisions
Sept 9-24, 2016
UBC
Varsity Athlete Sport Coach
Sept 24, 2016
UBC
NCCP Multi-Sport Make Ethical Decisions
Sept 16-18, 2016
Maple Ridge
Sport Coach
Sept 17, 2016
Maple Ridge
Multi-Sport Make Ethical Decisions
Sept 9-11, 2016
Victoria
Road Running Instructor Pilot #5
Sept 11, 2016
Victoria
Multi-Sport Make Ethical Decisions
April 22-24, 2016
Smithers
Club Coach (Endurance, Sprints & Hurdles)
April 22, 2016
Smithers
1/2 of Sport Coach (Basic Technical Elements) - Teacher Professional Development
April 8-10, 2016
Nanaimo
Club Coach (Endurance, Jumps, Throws)
April 9, 2016
Nanaimo

Multi-Sport Make Ethical Decisions

April 1-3, 2016
Victoria
Sport Coach
April 2, 2016
Victoria

Multi-Sport Make Ethical Decisions

March 4-6, 2016
White Rock
Club Coach

(Sprints & Hurdles, Throws)

March 5, 2016
White Rock

Multi-Sport Make Ethical Decisions

Feb 26-28, 2016
Langley
Sport Coach
Feb 27, 2016
Langley
Multi-Sport Make Ethical Decisions
Nov 13-15, 2015
Victoria
Club Coach Endurance (tailored to current/retired National Team Athletes)
Nov 14, 2015
Victoria
Multi-Sport Make Ethical Decisions
Nov 8, 2015
Burnaby
Multi-Sport Make Ethical Decisions
Nov 6-8, 2015
Burnaby
Performance Coach - Planning for Performance Weekend

Sept 25-27, 2015

White Rock

Club Coach (Jumps, Endurance)

Sept 18-20, 2015
Maple Ridge
Sport Coach

June 12-14, 2015

Burnaby

Road Running Instructor Pilot #4

April 12, May 17, 2015

Duncan

Sport Coach

April 10-12, 2015

Nanaimo

Club Coach (Jumps, Sprints/Hurdles)

April 10-12, 2015

Nanaimo

Sport Coach

April 10-12, 2015

Kelowna

Sport Coach

March 27-29th, 2015

Richmond

Sport Coach

Jan 16-18th, 2015

Kelowna

Road Running Instructor Pilot #3

Oct 4-5th, 2014

Victoria

Sport Coach

Aug 23-24th,2014
Burnaby
Sport Coach

August 6-8th, 2014

Kamloops

Club Coach (Sprints/Hurdles, Jumps, Throws)

August 6-7th, 2014

Kamloops

Sport Coach

June 6-8th, 2014

Victoria

Road Running Instructor Pilot #2

May 23-25th, 2014

Kelowna

Sport Coach

May 9-11th, 2014

Kamloops

Club Coach

May 9-11th, 2014

Kamloops

Sport Coach

April 4-6th, 2014

Nanaimo

Club Coach

(Endurance, Sprints/Hurdles, Jumps, Throws)

April 4-6th, 2014

Nanaimo

Sport Coach

March 7-9th, 2014

Richmond

Club Coach Throws & Para Throws

Feb 21, 23, March 2, 2014

Richmond

Sport Coach

Jan 24-26th, 2014

Burnaby

Road Running Instructor Pilot #1

Sept 13-15, 2013

Langley

Sport Coach
Coaching Pathway
Coach

ing education is the backbone of BC Athletics athlete development.
Great coaches build great athletes.
Read the steps below on how you can get started in coaching and coach education!
Becoming a Coach
​Become a BCA Coach Member to receive insurance and discounts on education courses
Find a Club near you
Start your Coach Education Pathway (below)
Coaching Education Pathway
Click the links below the graphic for more Information
Coach Development Model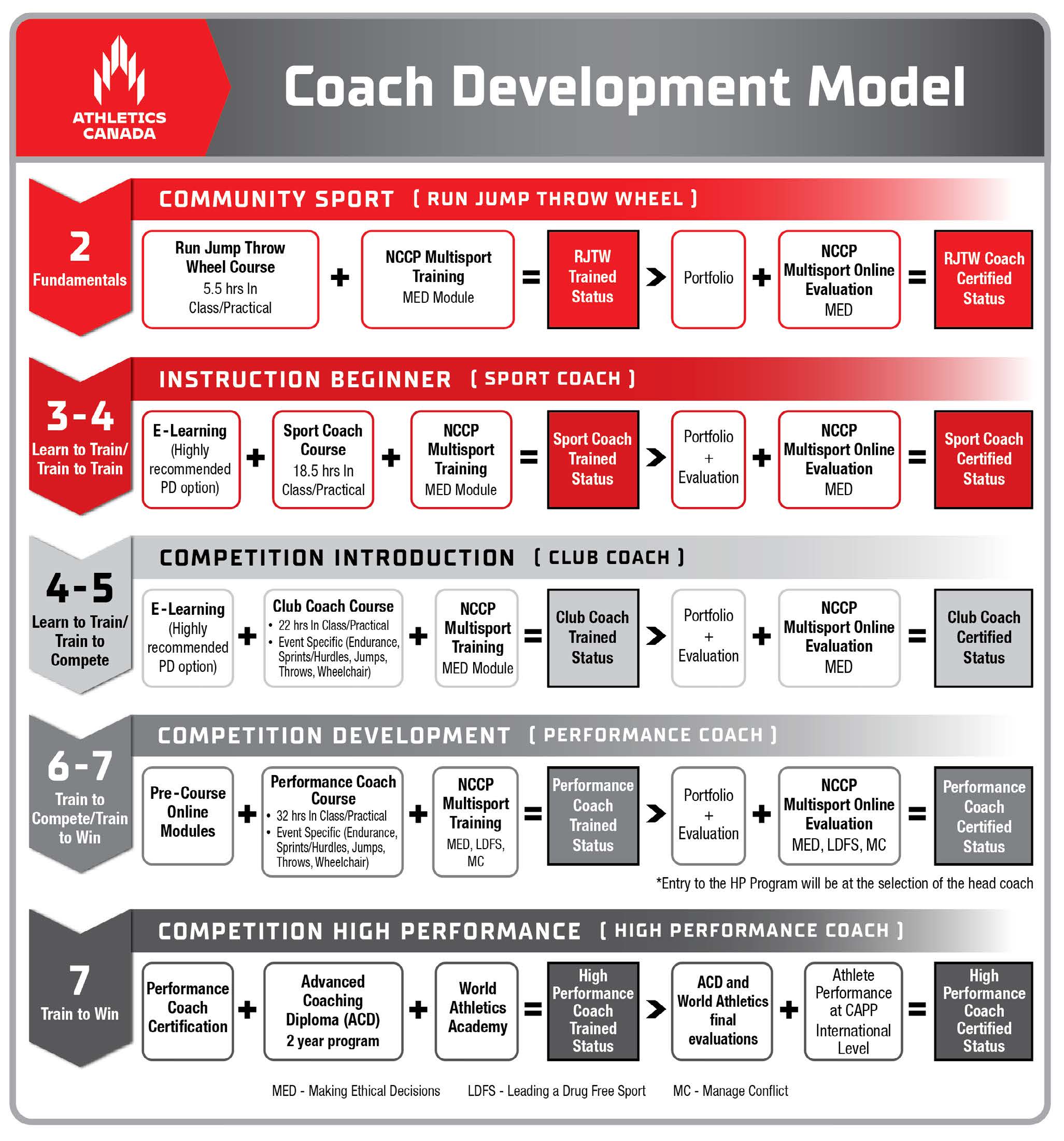 Questions about coaching education? Email Jennifer Brown, BCA Coaching Education Coordinator.
Coaching Courses
Coaches require different knowledge and skills depending on who they are coaching. Rather than progressing from grassroots to podium, coaches take the pathway relevant to the athletes they are coaching.
Watch this video explaining the NCCP Athletics Canada coach education pathway.
Follow to the chart below to find your appropriate pathway.
Click on the courses or evaluations for more info
Course Interest/ Request Form
BC Athletics organizes Coaching Education courses throughout the year. We would like to meet the needs of as many BC Coaches as possible.
Check our Course Calendar before submitting a course interest/requset form to see if there's a course near you. See our courses descriptions to see which course is right for you.
Please complete the approprite form below to assist us in setting up the courses in areas of interest.
Hosting Guidelines
All NCCP Courses Must be Pre-approved by BC Athletics
MINIMUM NUMBERS:
Minimum of 4 COACHES are required to host a course (exceptions may apply in remote areas)
Minimum of 6 COACHES are needed to recieve 2 free host registrations
BC Athletics can help promote the course to help fill the additional spaces
ROLES:
​BC Athletics covers all costs including Learning Faciliator fees (pay, travel, accomodation), facilities and insurance. They organize the Learning Faiclitator, manage registration, and help promote the course provincially
We ask the Host Clubs help to finding local bookings for facility, equipment and promote the course locally

SCHEDULES and EQUIPMENT LIST
​Our standard example schedules are below as well as suggested equipment. However, we can work with you to create a schedule to accomodate your needs and will connect you to the learning facilitator to arrange equipment.

We will be offering Foundations of Coaching (theory modules for Sport and Club Coach) online for coaches anywhere in the province. Clubs can then host just the Techincal portions of Sport and Club.
| | | | |
| --- | --- | --- | --- |
| Run Jump Throw Wheel | Foundations of Coaching | Sport Coach | Club Coach |
| | | | |
Evaluation
The first step to becoming certified is taking a Coaching Course
and becoming NCCP TRAINED (Find courses here)
From there, you can be evaluated to be NCCP CERTIFIED
Certification Requirements
Being certified requires completed all of the required evaluations including both the athletics and multi-sport evaluations. Evaluations can be completed in any order.
** PERFORMANCE COACH EVALUATION: In order to complete a Performance Coach evaluation, you should be
coach

ing a U20 or older athlete who is competing at the national level. The competition evaluation DOES NOT have to take place at nationals. It can take place at any competition that is appropriate for the athlete in question. A non-exhaustive list includes: university conference championships, provincial championships, elite invitational competitions. Email Hailey Kjaer if the meet you have in mind is appropriate.

Follow the links below for more information about the evaluation process

How to Register and Complete Your Evaluation
Evaluation Timeline*Self paced but may take a minimum of a month. Click the link to learn more.
Why Become Certified? *Professional standards, lifelong learning, mentorship, team requirements
Important Notes​*How to challenge the evaluation, minimum age, maintaining certification.
Maintenance of Certification

All NCCP Certified coaches in any context or sport are requried to maintan certification through ongoing learning and professional development points.
Once certified, coaches have 5 years to collect the required Pro-D Points shown below. If they do not, their status will changed to Trained until they collect the required amount.

Minimum Pro-D Points Required to Maintain Certification within a 5 year cycle

Run, Jump, Throw Certified

10 points

Sport Coach Certified

20 points

Club Coach Certified

20 points

Performance Coach Certified

30 points
---
How can you earn Pro-D Points?
See the chart below on how you can earn pro-d points. Check out the our Professional Development Tab for some options, along with accessible options to earn your points!
Type of Pro D

Points

How to collect points

NCCP Courses and Evaluations (Athletics or multi-sport)

5 points each

e-learning modules vary 1-5 pts pending length
Automatically added in locker

Non-NCCP Webinars, Conferences or Courses

1 point per hr; maximum 3 points per session
If advertised by organizer, automatically applied; if not, ask the organizers to have iPro-D points added

Active Coaching

1 point per year

Add your points to your locker.

Click profile > certification > self-report

Click "Record active status" to report your active coaching, or "record professional development to self-report" (see blue circles in photo below)

Self-directed learning (course, webinar, read a book, watched a film)

max 3 points per 5 year cycle

How to self-report pro-d points under your profile in

the locker
:

---
How can I check how many PD points I have?
Log in to the locker.
Click profile > certification > maintenance (see green circle in photo above)
This will show you how many points you have out of how many you need, and when your cycle starts (year you were certified) and when it expires (how long you have to collect the required points)
---
Find Out More about Maintenance of Certification and PD Points:
Professional Development
Professional Development is key to life long learning and coach development
Attend pro-d events for your own development at any time,
or collect professional develompent points to maintain your certification.
This document list's some of the accessible, free or inexpensive way you can collect pro-d points.
Types of Pro D:
NCCP Multi-Sport Courses
NCCP courses (multi-sport, athletics, or evaluation) will provide you with 5 pro-d points. Multi-sport courses are offered in person or online by viaSport and the Regional Alliance (see calendar here) and in other provinces (login and visit the locker calendar).
NCCP e-Learning Courses
NCCP e-Learning courses are available as multi-sport, athletics, and other sports and can be completed on your own time. They are worth between 1 and 5 points pending length. Click here to access e-Learning courses by logging into the locker. ​
Non-NCCP Professional Development Webinars
The following organizations offer a variety of webinars. Some have pro-d points available automatically, others you can self-report your points on the locker (See maintenance of certification for information on how to do so)
Organization
Description
Price
BC Athletics

BC Athletics Youtube Page ha

s past we

binars. Email us if you have watched our past events and we will give you pro-D points.

Free
Athletics Canada

Athletics Canada has webinar series' and e-learning opportunities available for all coaches.

Varies
ALTIS Digital Courses

Our courses have been created by world-class coaches with a track record if success, and Performance Therapists who are revolutionizing sports medicine. Each course features hours of in-depth guided learning content, ALTIS videos, and more, which share knowledge and unique perspectives you won't find anywhere else.

Varies
Coaching Association of Canada

The Coaching Association of Canada has many multi-sport and sport specific professional development courses that are available to you.

Varies
Commit to Kids

C2K for Coaching online training empowers coaches and other sport leaders with practical information to help enhamce youth safety in sport.

$12
CSI Pacific

CSI Pacific are driven to develop competent coaches in the high performance sport pathway who are capable of delivering the highest quality athlete programming.
There are many pro-d opportunities available through CSI Pacific, including their Speaker Series on Demand.

Free
EvalTrackSport

EvalTrackSport offers courses in many coaching areas including sprints, endurance, jumps, throws, strength, and youth development.

Varies
Respect Group Inc

The Respect in Sport Activity Leader/Coach Program educates youth leaders, coaches, and officials to recognize, understand, and respond to issues of bullying, abuse, harassment, and discrimination.

School Sport

This organization hosts several interactive online educational courses for couches. These courses were designed specifically for coaches in a school-sport setting and cover everything from the philosophies of school sport, growth and development, nutrition, injury management, planning a practice, and much more.

Free
Sport for Life

Sport for Life strives to reshape how we support sport and train athletes at all levels in Canada – from children to adults, from towns to cities, from provinces and regions through to the national level.

Varies
PHE Canada

Promotes and advances quality physical and health education and healthy learning environments.
Specific physical literacy courses can be found here

Varies
Grants and Bursaries
At BC Athletics we recognize that attending coaching courses may not be financially assessible for all coaches. The grants below are available to help support your needs.
Grant

Organization

Description

Amount

FOR FEMALE COACHES:

ViaSport BC

For coaches completing an NCCP multi-sport or sport-specific coach training course or certification evaluation

$250

LeadForward Grant: Advancing Balanced Representation in Sport

ViaSport BC

This grant aims to strengthen balanced leadership for female coaches, officials, and organizational staff throughout BC.
Supports training, certification, and policiy development opportunities.

$2000

WISE Fund Grant
Canadian Women & Sport

For women and girls to participate and lead in the sport system

$2500

FOR HIGH PERFORMANCE COACHES:

Bob Bearpark High Performance Coach Education Bursary Awards

ViaSport BC

For coaches undertaking NCCP Competition Development modules/evaluations or Advanced Coaching Diploma modules
Must be a BC resident

$250

NCCP Gameplan Coach Education Grants
GamePlan

Supports athletes who are looking to coach in the Competition-Development Stream (Comp-Dev) or the Advanced Coaching Diploma (ACD) program as part of the NCCP.

Up to $1000

ACD/Team BC Canada Games Bursary

Canadian Sport Institute




Pacific

Have completed the Advanced Coaching Diploma at Canadian Sport Institute Pacific.
Be verified as a Team BC selected coach
Provide evidence of completing Diploma requirements
Be a current member in good standing of Coaches of Canada

$500

ZONE SPECIFIC:

Northern BC Coaching and Officiating Development Fund

ViaSport BC

Individual or group who permanently reside in zones 7 or 8 OR
PSO who hosts a coaching/officiating course in zones 7 or 8

Individuals: $1500




PSO: $2500

FOR COMMUNITY LEVEL COACHES:

ViaSport BC

Aims to encourage more community level coaches to become involved, to further their education, and to receive training/certification.
Four coach grants are available.

$100-$600

OTHER GRANTS:

ViaSport BC

Vouchers may be used for travelling to a recognized certfication or professional development opportunity

Canadian Sport Institute
Pacific

Be endorsed by a NSO with min. level 3 certification or equivalent
Be activley coaching athletes
Pay designated tuition for ACD program
Completes all ACD requirements

Max. $100/event

UBC Graduate Certificate in High Performance Coaching and Technical Sport Leadership Scholarship

Canadian Sport Institute
Pacific

Endorsed by National Sport Organization (Letter of Endorsement)
Successfully admitted into the Graduate Certificate in High Performance Coaching and Technical Sport Leadership.
Current member in good standing of Coaches of Canada

$500/course
Max. $2000

ViaSport Grants & Links to Other Grants
ViaSport BC

ViaSport offers many different grants for coaches and has published an extensive list of other grants

BC Athletics In-Province Travel Grants
BC Athletics

BC Athletics will be providing grants of up to $250.00 for coaches from outside the course area to attend the necessary NCCP courses offered elsewhere.

$250
BC Athletics Out-Of-Province Travel Grants
BC Athletics

BC Athletics will be providing grants of up to $700.00 for a maximum of 5 coaches from BC to attend out-of-province national-level coach education workshops. The grant can be applied to any of the national coaching events including Performance Coach, summits, and mentorship. May be applicable to other national events upon request.

$700
Minimum Standards for Coach Membership
All coaches must take the Safe Sport training through The Locker.
Step 1: Get an NCCP Number
Step 2: Take an NCCP Coaching Course (In-Training)
Look at the yearly coaching calendar and plan ahead
Step 3: Complete Additional Requirements (Trained)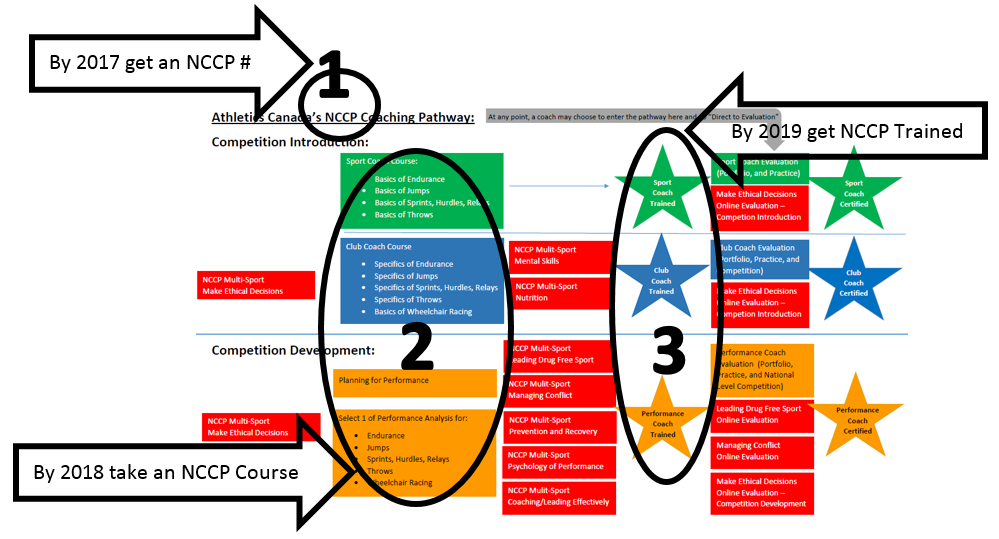 ---
---
Still have Questions or Need More Information?
Below are some links to provide you with all the details of BC Athletics New Minimum Standards for Coach Membership.
---
---
Link to the initial email sent from BCA President and BCA CEO:
---
Making Sense of the New BCA Minimum Coach Standards (FAQ and Solutions):
---
3 Simple Steps to Becoming Trained:
---
Graphic Explanation of Athletic Canada's NCCP Coaching Pathway:
http://www.bcathletics.org/admin/js/elfinder/files/Coaching/AthleticsCoachingPathwaySportCoachClubCoach.pdf
---
FAQ
How do I access course manuals?
What is In-Training vs Trained vs Certified?
How do I find what trainings or certifications I have?
What are the age requirements to be trained or Certified?
Do I need a BC Athletics Coach membership for courses?
How can I receive financial assistance?
Where do I find evaluation rubrics?
Do I need to take Athletics Courses before the evaluation?
Do I need to take the multi-sport courses before the evaluation?
What is an NCCP Number? ​
An NCCP number gives you access to the Locker, which is the Coaching Association of Canada's database system for all sports. All your coach education will be tracked on the Locker.
You can login to the Locker to view your coach education transcript, course history, professional development points, as well as take online courses and multi-sport evaluations
Sign up for an NCCP number or look up your number here

.

It's free and takes two minutes!
What is NCCP In-Training vs Trained vs Certified?
There are three levels of NCCP certification for any pathway:
How do I find our what Trainings or Certifications I have?
Click here to login to the locker with your NCCP Number
You will see all the courses and certificaitons that you have as well as your NCCP Status (in-training, trained, or certified)
OR click the "history" tab to see a timeline of when you have taken your trainings

What are the age requirements? ​
The minimum age to obtain a Coach Membership with BC Athletics is

15

However, coaches can start their NCCP training (i.e., take a course) in preparation for coaching at

14

The minimum age to be NCCP Certified (i.e., take an evaluation) is 16
​
​Do I need a BC Athletics coach membership for courses?
No, you do not need to have a coach membership to enrol in courses. However, being a BC Athletics member will grant you discounts for many of the coaching courses available.
How do I access course manuals?
Electronic Copies

The NCCP Course Manuals are accessible for free online to all coach members and course participants under the "Documents" tab at https://athletics.ca/coach/
Coaches will need their BCA Coach Membership Number (this is the same as your Athletics Canada number) to sign up or log in. You can look up your BCA number here.


Hard Copies

Coaches have the option of ordering hard copies of the course manuals for a fee. You can order them with your course registration or seperately by filling out this form. The fees are listed below:

Sport Coach Workbook: $15.00 + GST and Shipping (used in Foundations of Coaching Online Theory Modules)
Club Coach Workbook: $17.00 + GST and Shipping (used in Foundations of Coaching Online Theory Modules and Club Coach Course)
Sport and Club Coach Technical Manual: $14.00 + GST and Shipping (use in Sport and Club Coach Technical Course)
How can I receive financial assistance?
Where do I find evaluation rubrics?
The evaluation rubrics provide you with a check list of what is required for your portfolio and observations.
Login to Atheltics Canada. You can sign in with your Atheltics Canada number (same as your BC Athletics number - found here)
Do I need to take athletics courses before the evaluation?
No, the evaluation assesses the coaches knowledge and competency. You can obtain this compentncy from the course, on your own, and take the evaluation when you feel ready.
However,

If you take the athletics course first, you have unlimited attemptes to pass. If you skip the course and go straight to the evaluation, you have one attempt to pass and if you don't, you will need to take the course first before attempting the evaluation again.
Do I need to take the multi-sport courses before the evaluation?
No, however:

If you take the multi-sport course first, the evaluations are free with unlimited attemptes to pass with 75% of higher.
If you skip the course and go straight to the evaluation, the cost is $85.00 with 3 attempts to pass with 75% or higher.

To take the multi-sport evaluation, login to the locker and click the e-learning tab to find your respective evaluation (all are online).