BC Cross Country Champions and Teams Crowned in Abbotsford
October 29, 2018 14:23pm
The Valley Royals hosted the 2018 BC Cross Country Championships this past weekend at Clearbrook Park in Abbotsford. With over 575 people testing themselves in the various age divisions.
The Senior Men's event saw Lucas Bruchet lead from the first lap, winning the event in 22:03. Second place Evan Esselink, recently joined the BC Endurance Project and is now a training partner of Lucas. He was in the hunt on every lap but couldn't quite close the gap finishing with a 22:16. Third place was a head to head sprint to the line between John Gay of UBC and Nickolas Colyn of Trinity Western, with John out leaning Nickolas at the line, both finishing with a time of 22:38.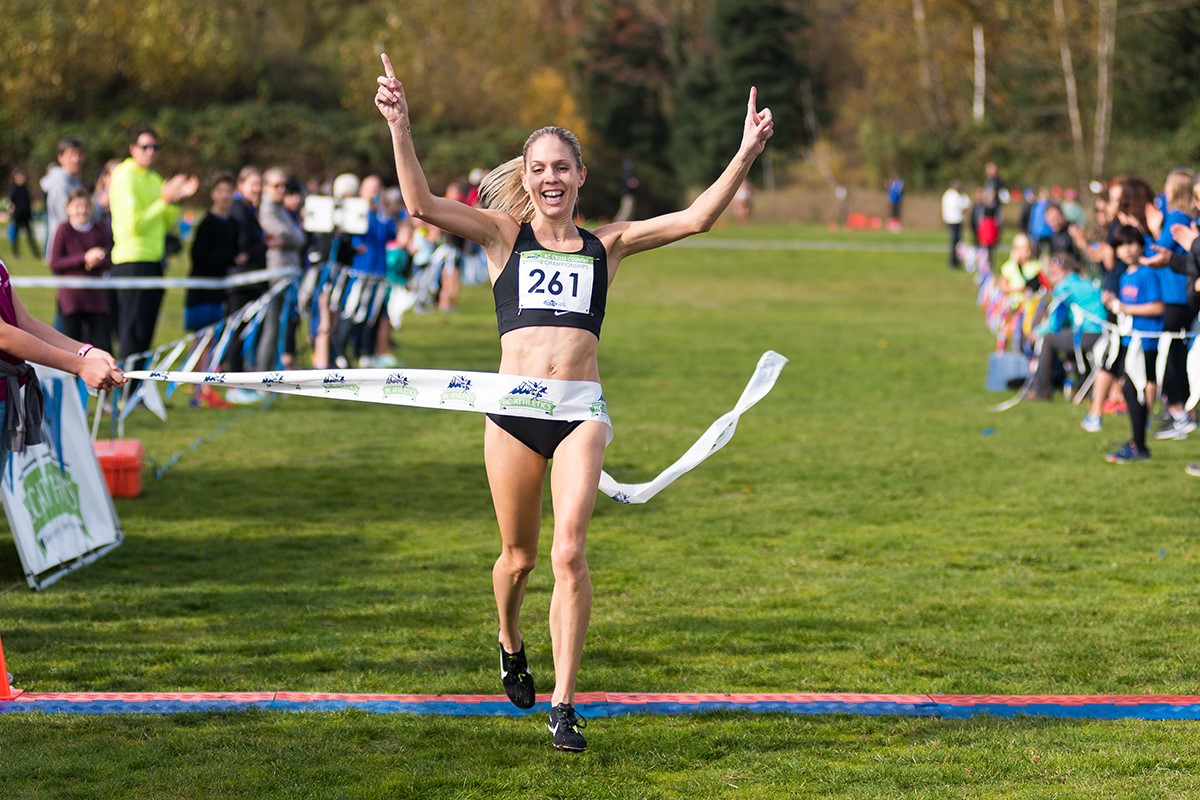 Natasha Wodak ran away with the Senior Women's race with a commanding lead on each lap finishing the event with time of 25:20. Second saw another right to the line battle between Sarah Inglis and Lisa Brooking both finishing with a 25:41, but Lisa got the lean and took second place.
The BC Team that will be headed to the National Cross Country Championships will be notified early this week and named early next as the team is confirmed. Youth have one more opportunity to make the team at the BC High School XC Championships November 3rd in Nanaimo.
Full results can be found at - https://racedaytiming.ca/results/2018BCXCRace1_1.5km
2018 BC X-Country Championships Masters Age Graded Results - View Results
BC Cross Country Championships – Team Results
Post-Secondary Women's Senior Team Challenge (only SENIOR athletes count)
UVIC Vikings 24
UBC Thunderbirds 40
UBC Okanagan 56
Post-Secondary Men's Senior Team Challenge​ (only SENIOR athletes count)
Trinity Western Spartans 39
UVIC Vikings 40
UBC Thunderbirds 59
UBC Okanagan 101
Thompson Rivers University 112
Senior and Masters Women's Club Team​ (only SENIOR & Masters athletes count)
Langley Mustangs 11
Vancouver Thunderbirds 35
UVIC Track Club 47
Senior and Masters Men's Club Team​ (only SENIOR & Masters athletes count)​
Trinity Western Spartans 13
UVIC Track Club 30
Coastal Track Club 55
Junior Development Team Results
1. VANCOUVER THUNDERBIRDS 42
2. LANGLEY MUSTANGS 19
3. OCEAN ATHLETICS TRACK & FIELD CLUB 15
4. KAJAKS TRACK & FIELD CLUB 9
4. ROYAL CITY TRACK & FIELD CLUB 9
6. OKANAGAN ATHLETICS CLUB 8
7. Air Blastoff Lions 7
8. COASTAL TRACK CLUB 6
8. COQUITLAM CHEETAHS 6
8. COWICHAN VALLEY ATHLETIC CLUB 6
11. PRAIRIE INN HARRIERS RACING TEAM 4
11. Southpointe Academy 4
11. VALLEY ROYALS TRACK & FIELD CLUB 4
Midget Girls Team
Ocean Athletics 12
Vancouver Thunderbirds 23
Royal City Track & Field 26
Midget Boys Team
Ocean Athletics 16
Coastal Track Club 21
Coquitlam Cheetahs 27
Youth Girls Team
Vancouver Olympic Club 21
Coastal Track Club 23
Prairie Inn Harriers 27
Youth Boys Team
Coastal Track Club 10
Prairie Inn Harriers 25
Coastal Track Club 2 35
Full team results can be found at - https://results.raceroster.com/results/unstructured/tc2u665pa9mtussb?id=476