Get To Know Canada's Top Hammer Thrower Adam Keenan
December 11, 2017 11:52am
Adam Keenan grew up in Victoria, British Columbia and attended Lambrick Park High school. Adam has achieved great success as a Hammer Thrower, winning Gold at the 2013 Canadian games in a meet record. He was also a member of the World Junior Team in 2012 and in that same year he broke the Canadian Junior Record in Hammer which still stands today. Since then Adam has moved onto Northern Arizona University where he has won numerous conference titles, set the school and conference record and in 2017 he placed 11th at the NCAA Championships in Eugene, Oregon. Most recently, on December 2nd , at the Paradise Valley Community College Holiday Preview Meet he threw a personal best performance in the Hammer of 72.57m. BC Athletics caught up with Adam to talk to him about his recent performance and his goals for 2018.
Personal Bests:
Hammer - 72.57m
Weight Throw (Indoor) - 20.45m
Career Highlights:
2017 Canadian Track & Field Championships (Hammer, 1st)
2017 NCAA Track & Field Championships (Hammer, 11th)
2016 NCAA Track & Field Championships (Hammer, 7th)
2013 Canada Summer Games (Hammer, 1st)
Canadian Junior Hammer Throw Record Holder (74.11m)
BC Athletics: First off we would like to say congratulations on your recent performance at the Paradise Valley Community College Holiday Preview Meet. This was a significant improvement for you, improving on your previous best of 70.18m set back in the Spring. Tell us what this throw meant to you.
Adam: Thank you! I struggled the last few seasons with being able to produce a big throw; however, my recent performance has given me the confidence to realize that I can still contribute to this sport. I have been chasing a distance like 72.57m for quite some time. More than anything, this performance has motivated to me to continue training hard and prove myself again, hopefully next time on a bigger stage!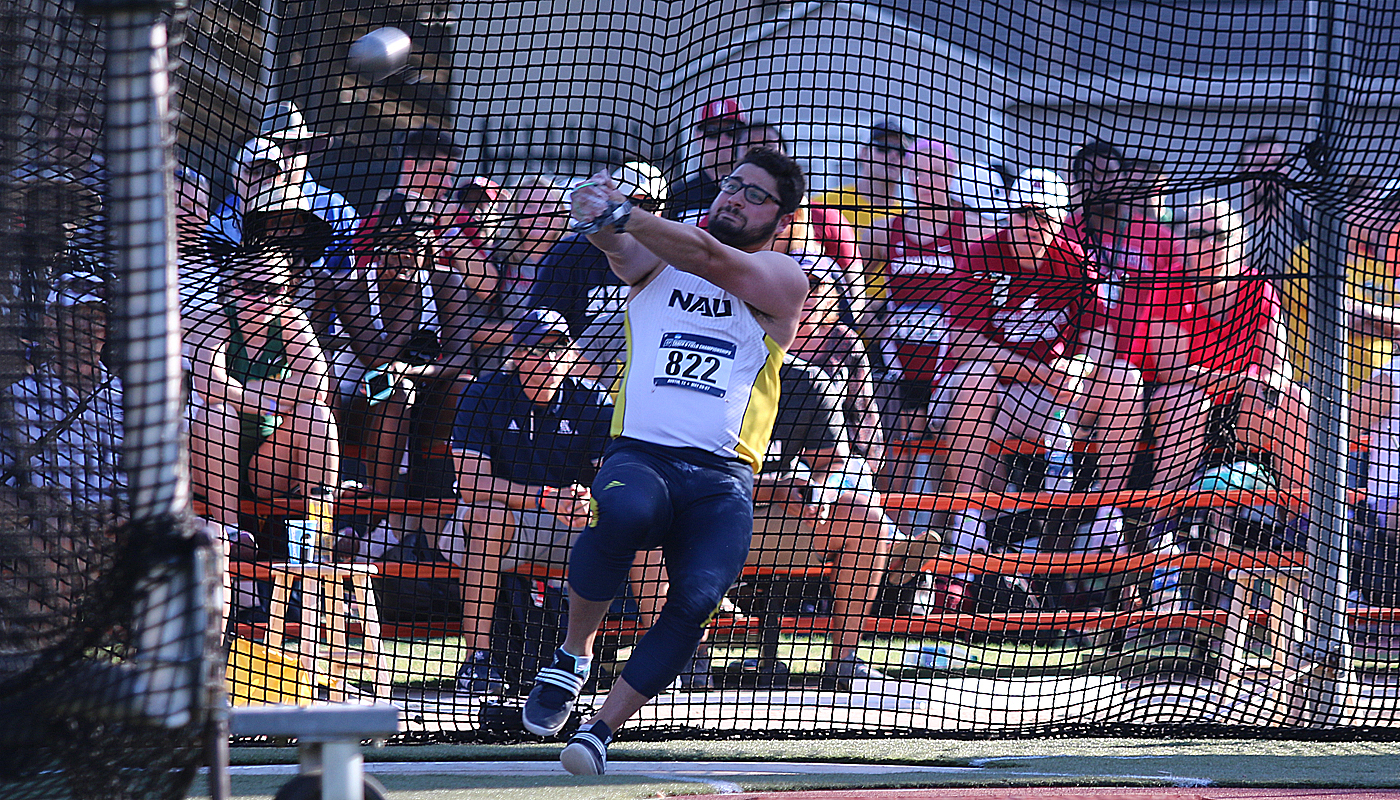 BC Athletics: Tell us a little bit more about your performance. What was your prep like going into this meet? Did you have any indication in your training that a big throw was coming?
Adam: Dr. Bondarchuk, my coach in Canada, is still writing my programs while Coach Ott and I adapt them to make them work with a busy school life here in Flagstaff. Our prep coming into this meet was to take as many throws as possible in the fall (between 30-42 a day), and slightly ease off about 10 days before the competition. It was difficult to get in two throwing sessions a day with a full time class schedule, but we made it work. The results in practice took off as soon as we started the taper. I ended up having many personal bests (PB's) in the week leading up to the competition, so we figured it would go fairly well. That being said, I didn't think I'd go over 72m!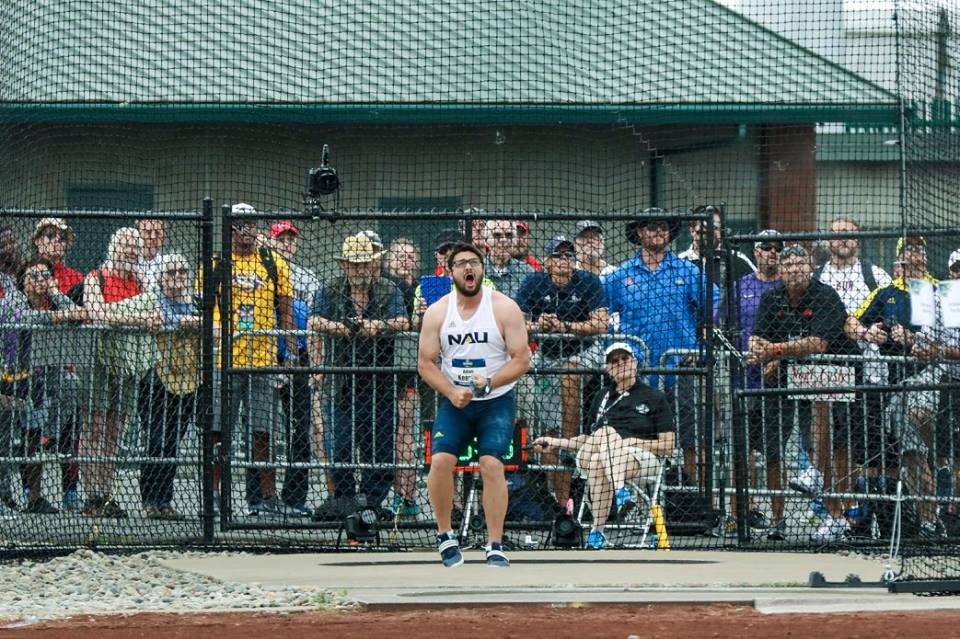 BC Athletics: There is a strong possibility that this performance would put you in a qualifying spot to compete for Canada at the 2018 Commonwealth Games in the Gold Coast. Were these games on your radar during the 2017 season? If you are to be named to the team it would be your first Major Games Team after having competed for Canada at the World Juniors and NACAC Games – what would that mean to you?
Adam: I fully expected to not make the team when I learned that Athletics Canada was only taking 36 athletes as per games' rules. However, being a member of Team Canada again was definitely on my radar. After an abysmal performance at World Juniors in 2012 and a disappointing third place result at NACAC in 2014, being named to this team would give me a chance at redemption. I have become a much more experienced competitor, and I would love the chance to compete alongside some of the world's best!
BC Athletics: For the past few years you have been training with Coach Ott at Northern Arizona University (NAU) in Flagstaff, AZ. What made you initially look at NAU and what has that program been like for you and your development as an athlete?
Adam: I used to train in Kamloops, B.C. with Dr. Bondarchuk. However, as I was training twice a day along with a full class schedule, part time work was not enough to pay for rent and food. When NAU alumni, Lauren Stuart, came to join our training group, she spoke very highly of her former school and the track and field program there. She was able to set me up with Coach Ott's email, and he and I talked scholarships and eventually got it figured out. Coach Ott's methodology in the hammer is refreshingly similar to Dr. B's, so there was not much of a transition in that regard. He was completely open to letting me continue with Dr. B's programs and, like I mentioned earlier, has helped me adapt them to life here. NAU has offered me an education, a constant place to train, and a strong support network of teammates and coaches – it has been instrumental in my development as an athlete.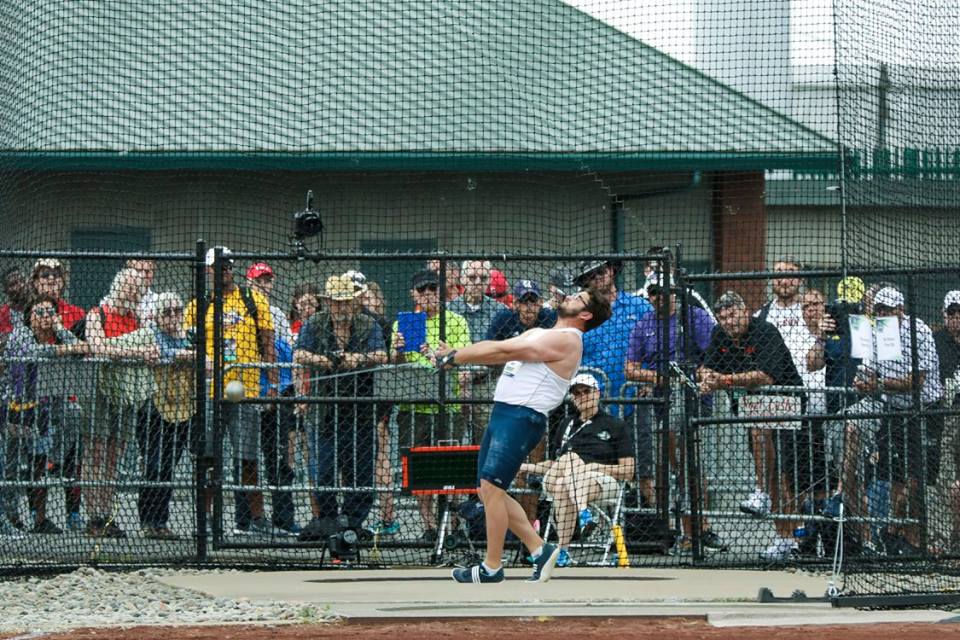 BC Athletics: NAU is located in the high mountain town of Flagstaff, Arizona at 7,000ft and for this reason it is famous as a location for endurance athletes to use for altitude training. What affect did the altitude have for you as a thrower? Has the thin air ever led to any monster tosses?
Adam: As a thrower, my endurance is already embarrassingly poor. Add 7,000ft of altitude in Flagstaff, I was out of breath just walking to my classes! Unfortunately, as hammer throwing is purely anaerobic, the elevation has not helped all that much. That being said, the thin air sometimes helps my 5kg hammer get out a bit further!
BC Athletics: It appears that on paper this breakthrough has been a long time coming after a few years of consistent performances. Did you ever have doubts that the breakthrough would in fact come? What did that process look like mentally over the past few years, How did you manage to keep the motivation to keep putting in the long hours of training?
Adam: That was a very diplomatic way of saying that I was stagnate for quite a while! I absolutely had doubts that a breakthrough would come; there were times when I was ready to hang up my shoes and just quit. However, many people told me that consistency would breed a breakthrough, so I stayed patient for a few seasons. My PB at the end of the 2013 season was 67.14m, and my PB before this past competition was 70.18m. An improvement of 3m in this amount of time was incredibly discouraging. It was difficult to stay motivated and positive, especially when my competitors began to significantly improve and surpass me by metres. However, I trusted in my coaches, I stayed true to my programs, and I tried to find silver linings wherever I could in my training. I've put the work in and I will continue to, and I sincerely believe that this 72.57m is just the beginning.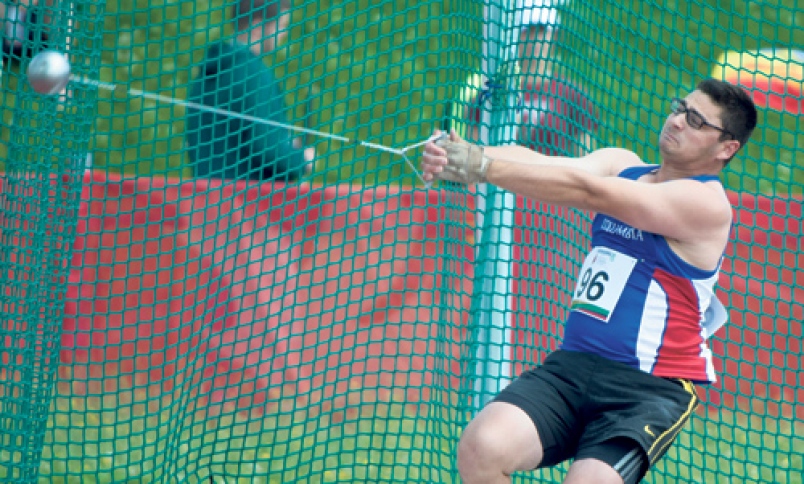 BC Athletics: With the Commonwealth Games Team being named early in the New Year, that will greatly affect your 2018 season outlook. That said, what other goals do you have for the 2018 season both indoors and outdoors?
Adam: My main goal since the Summer of 2017 has been to qualify for, and compete at, the NACAC games in Toronto in 2018. Of course, that will shift a bit if I'm named to the Commonwealth team. The more short-term goals are to focus on the day to day practices, try to make technical changes in as few reps as possible, and stay in a consistent routine throughout the indoor and outdoor season.
BC Athletics: You've recently completed your eligibility for NAU so what does the next stage in your career look like? Do you have any plans to stay in Flagstaff and continue working with Coach Ott or are there other plans in play?
Adam: I am currently a volunteer assistant coach here at NAU, and would love to continue training here under Coach Ott's guidance. As for now, the plan is to stay in Flagstaff for as long as I can and continue getting great training sessions in!
Thank you Adam for taking the time to speak with us and good luck in your upcoming competitions.
Chris Winter - BC Athletics