National Champions Crowned at Pacific Distance Carnival
June 19, 2021 18:48pm
Friday, June 18th, 2021 - Swangard Stadium, Burnaby, BC - It was a perfect night for racing at the 2021 Hertz Pacific Distance Carnival and Canadian 10,000m Championships. Malindi Elmore won the women's National Championship title in a time of 33:08.66 and Luc Bruchet won the men's title in a time of 28:40.66
Elmore led the pack through 8km before making her move and running off the front.
"It was very hard, the honest truth" Elmore says "The last 2 [kilometres] was a grind for sure, but it's supposed to be. I was definitely thinking in the middle of that I'm glad I'm a marathon runner"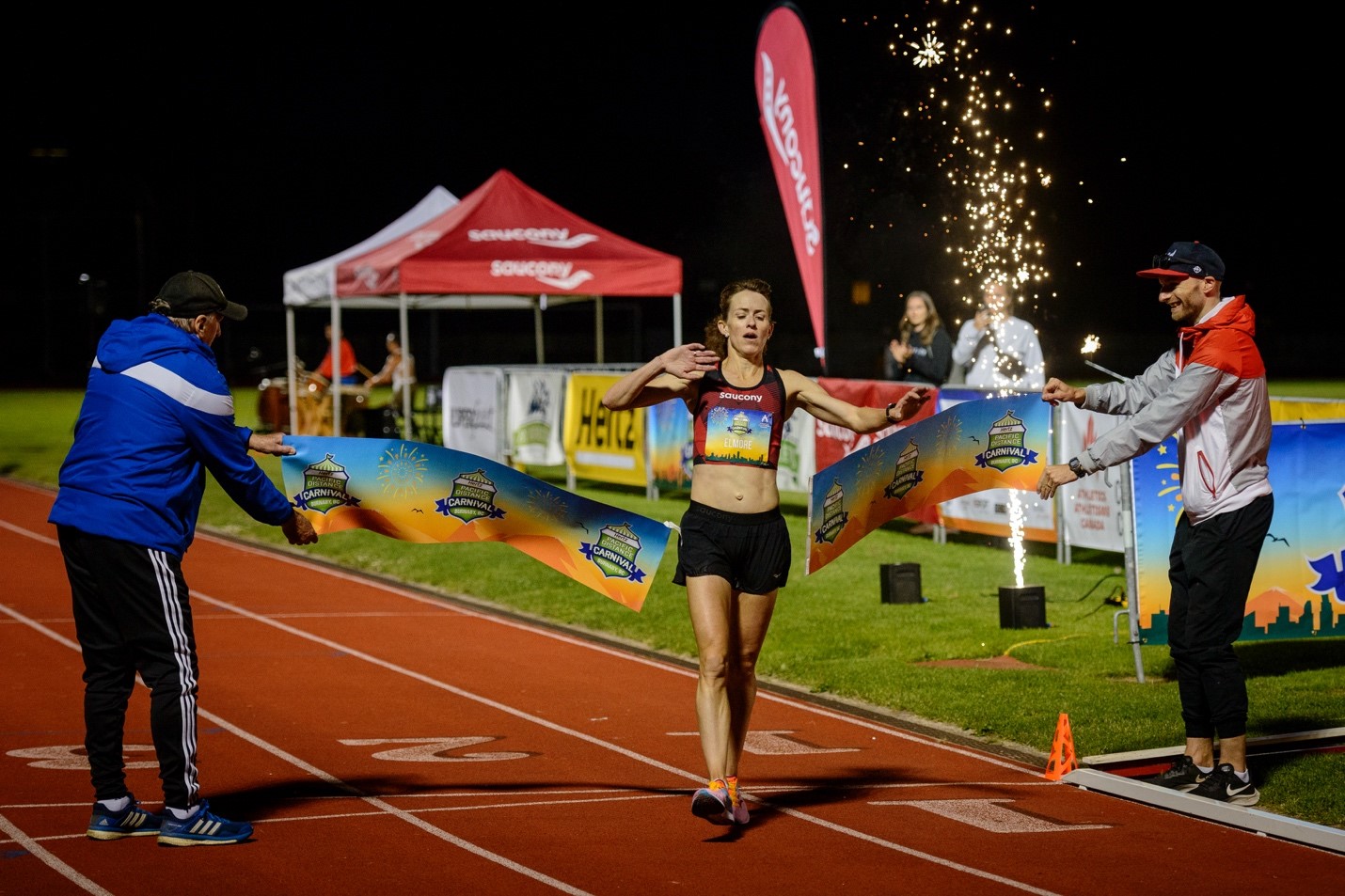 Elmore is having an impressive run as of late, first claiming the Canadian marathon record in January 2020, being recently selected to represent Canada at the 2020 Olympic Games, and now winning the 10,000m National Championship title. Following closely behind, in second place, was Briana Scott who had a personal best performance of 33:14.99 in the and in third place was Leslie Sexton who ran a time of 33:42.58
Lucas Bruchet is also having an impressive season, coming off two consecutive 5,000m personal bests set at the Swangard Stadium in Burnaby, BC. The first personal best was set at the Saturday Night Lights event, while the second was at the Harry Jerome International Track Classic where he bettered his time by 10 seconds running under Olympic standard in a time of 13:12.56. Justin Kent placed second with a time of 29:14.60 while Phil Parrot-Migas placed third with a time of 29:21.90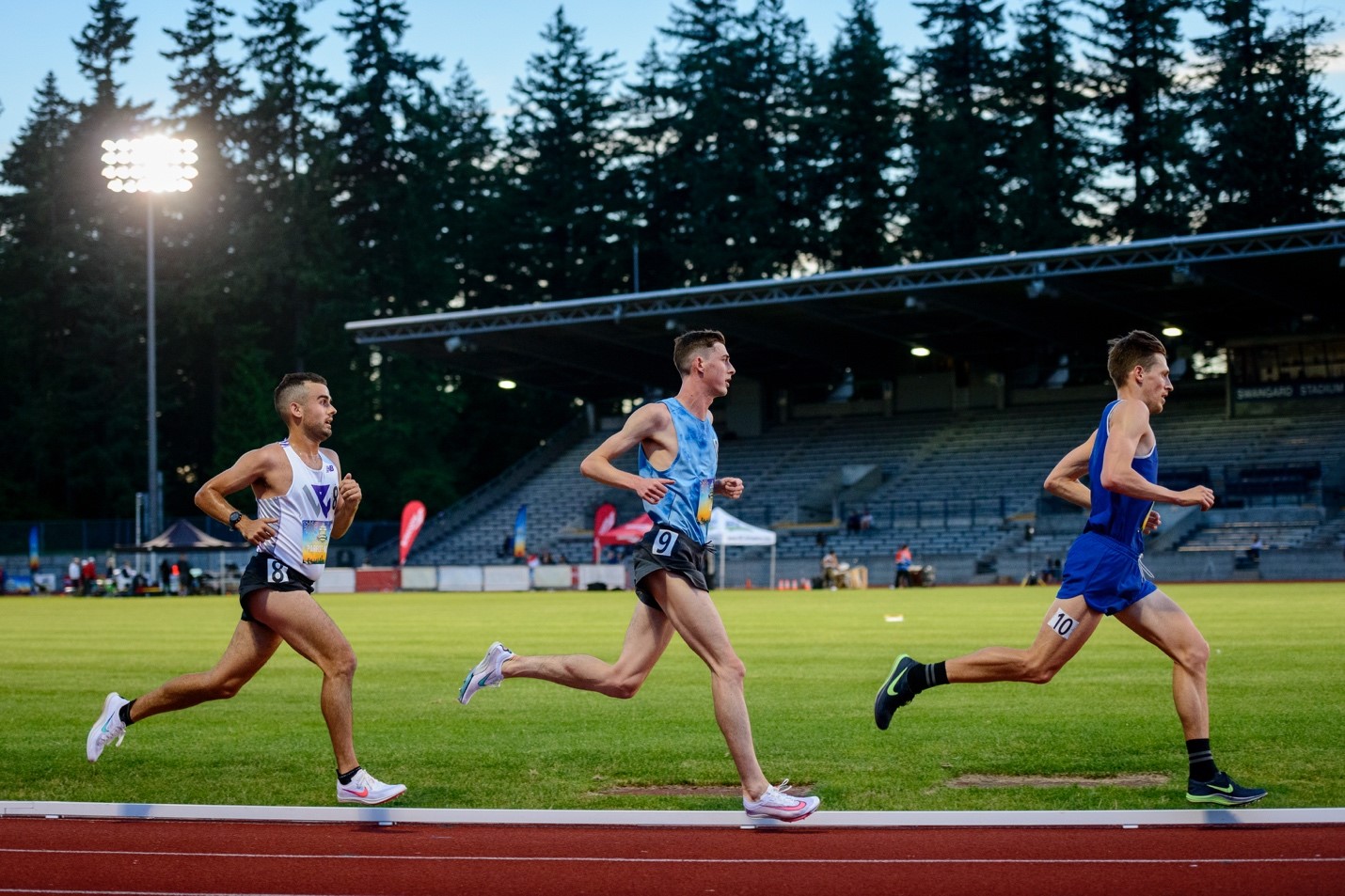 Bruchet paced Justin Kent and Phil Parrot-Migas through 7km before forging ahead on his own to win the race. "Yeah it was good, coming off a race last weekend it was more to help Justin out for as long as possible and if I'm not feeling too tired then just finish strong, it felt good"
Evan Dunfee broke another Canadian record this evening, this time in the 5,000m clocking in at 18:39.08 breaking Inaki Gomez's long-standing record of 18:45.64 set back in 2012. Dunfee is coming off a 10,000m Canadian record he set last weekend at the Harry Jerome International Track Classic.
Canadian 10,000m Championship Results:
Top 3 Canadian Women
Malindi Elmore 33:08.66
Briana Scott 33:14.99
Leslie Sexton 33:42.58
Top 3 Canadian Men
Lucas Bruchet 28:40.66
Justin Kent 29:14.60
Phil Parrot-Migas 29:21.90
For full results and video recap visit: www.pacificdistancecarnival.ca
Photo Credits: Rob Shaer Photography