Becoming Para Ready
September 29, 2020 9:00am
In 2017 only 3% of the 6.2 million disabled Canadians engaged in regular organized sport. (Statistics Canada, 2017; Government of Canada, 2012). According to SportandDev.org people with a disability may face a number of additional barriers to participation in sport compared with people without a disability. Some common barriers include:
Lack of early experiences in sport (this varies between individuals and whether a disability is from birth or acquired later in life)
Lack of understanding and awareness of how to include people with a disability in sport
Limited opportunities and programs for participation, training, and competition
Lack of accessible facilities, such as gymnasiums and buildings
Limited accessible transportation
Limiting psychological and sociological factors including attitudes towards disability of parents, coaches, teachers and even people with disabilities themselves
Limited access to information and resources
In Canada, integration in sport has been a long, slow process. At the community level, researchers have shown that integration is not happening as effectively as it could be (Howe, 2007; Kitchin, Peile, & Lowther, 2019; Peers, Konoval, & Naturkach, 2020). According to an August article in the SIRC titled, Becoming Para Ready, Community sport clubs confront a number of barriers, including:
A lack of trained coaches
Limited availability of interested coaches/volunteers
Limited human resources, equipment, accessible training spaces
Inadequate budgets
They also report confusion and lack confidence in identifying what the integration policy is, what it means, and how it should be implemented at the local level
As athletes with a disability are apart of the Athletics family it's vital that we all do our part to ensure everyone is included. At BC Athletics, we feel strongly that it is important to be inclusive and welcoming to anyone and everyone interested in sport. The issues of cost, resources, and equipment are real but, resources (both financial and knowledge based) exist and can be overcome.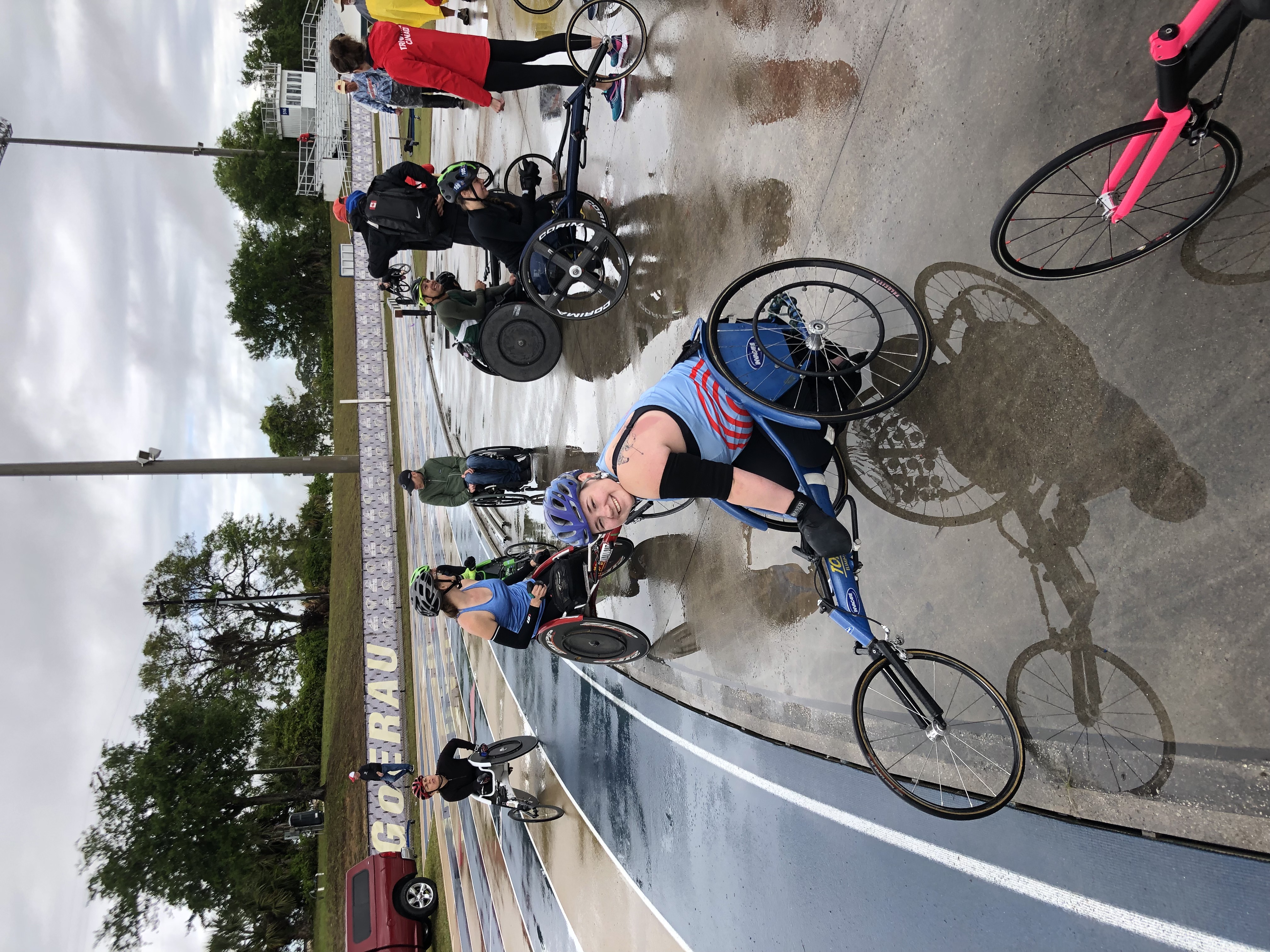 To help tackle these barriers and support clubs in delivering more effective integrated sport opportunities, The Steadward Centre for Personal & Physical Achievement at the University of Alberta has created a resource called Becoming Para Ready. The resource was developed specifically for the sport of athletics and outlines the 9 P's of a "Para-Ready" program: Proactive, Policy, Promotion, Programming, People, Place, Pathway, Price, Partnership.
Additionally, we have athletic clubs and resources right here in BC that have demonstrated real leadership in this area. Athletics Victoria has shown great leadership in being an inclusive track and field club through their efforts with each individual athlete. No athlete is the same and Athletics Victoria takes great pride in their efforts with their athletes. BC Athletics was given the opportunity to chat with the president of Athletics Victoria, Sean Steele, to find out how the club has taken steps to become "Para-Ready"?
Where Did Interest in Para Athletics Come From?.
Sheldan Gmitroski and I (both coaches of Athletics Victoria) got involved in para-coaching several years ago. We were setting up the new club, Athletics Victoria, and since we were running a club with a variety of programs, age groups, and event disciplines we thought, why not include programming for para in our constitution as well as we were already doing it? People sometimes worry about coaching something different from able-bodied athletics. However, we already coach athletes who use specialized equipment, such as pole vault poles, so learning to coach someone in a racing chair isn't a huge stretch. To us, it doesn't matter if you're in a wheelchair, or have a visual impairment. If an athlete joins the club and wants to do wheelchair racing or other para-events, we work on getting them the coaching they need.
Why Did This Become A Priority for Your Club?
It's the right thing to do, if you're an athletics club, you should try to provide programs for all athletes. Over the years, we at times had people who compete with unique abilities, in Special Olympics, so it wasn't too much of a stretch to add incorporate programs for Para Athletes.
How Has Your Club Promoted Para Training?
Promotion has always been a weak spot for our club. We do very little marketing and don't have any banners or anything. All our interest comes through BC Wheelchair Sports Association and word of mouth (local athletes). BC Wheelchair Sports regularly put on an event in Victoria that helps promote wheelchair athletics called, "Have-A-Go-Day". This is where BC Wheelchair Sports comes to Victoria for a day to introduce coaches and prospective athletes to Para Athletics. This is a great opportunity for Athletes with a Disability to learn about Para Athletics and for our coaches to get additional education.
Do Your Club Coaches Do Any Training Specific to Para Athletes?
In recent years, I have been very fortunate to be supported by BC Wheelchair Sports to attend the Athletics Canada warm weather training camp for 2 weeks per year (pre-covid). I also benefit from also seek out conversations with James Hustvedt, the Provincial Wheelchair Racing coach for BC and from the 2 or 3 training weekends BCWSA puts on in Vancouver each year.
Has the Facility Adapted to Para Athletes? How?
Yes, our club has adapted, and we have had lots of help from BC Wheelchair Sports. Without them, it wouldn't have been possible to be where we are today. We have purchased some equipment such as a throwing chair, and a roller for racing chairs so our athlete continue to train even during the rainy seasons.
At the moment we have one athlete who competes in wheelchair racing.
Does Athletics Victoria Have Tie Downs at The Track Available for Para Athletes (Throwing Events)?
Over the last couple of years, we had been asking UVIC for help as we use their facilities for our annual Dogwood Track and Field Meet. However, we finally got the university to drill in holes and BC Wheelchair Sports bring platforms for the athletes which can then be used to secure the throwing chair with ground anchors.
Have There Been Any Challenges Faced with The Para Athletics Program At Your Club?
We have had challenges with getting reliable facilities, funding, and equipment but all these are challenges faced by clubs regardless of the type of event. It is nothing specific to Para Athletes.
Recommendations to Other Clubs
Do it. Para-athletes are simply wanting the chance to train and compete, so help as you would any other athlete. If you're afraid making mistakes don't be, as coaches we should be perpetually learning to improve our skills and abilities. There are also many resources out there for you to access whether its BC Athletics, BC Wheelchair Sports, or Athletics Canada.
To contact Sean Steele, President of Athletics Victoria, please email him at info@athleticsvic.ca
Want to know more about how to become "Para-Ready"?