BC's Kieran Lumb leads Canada at U20 Cross-Country Worlds
March 29, 2017 11:21am
In the past month Kieran Lumb of Vancouver, BC won the 2017 NACAC Junior XC Championships in Boca Raton, Florida and then at the 2017 World XC Championships in Kampala, Uganda, Kieran was the Top Canadian finisher placing 55th. BC Athletics caught up with Kieran to talk to him about his experience at the World XC Championships, how his first year at university is going, and what he has planned for the upcoming outdoor season.
BC Athletics: First off we would like to say congratulations on your recent performances at both the NACAC XC Championships in Florida where, you won the Junior race in somewhat peculiar fashion, and at the IAAF World Junior XC Championships in Kampala, Uganda finishing as Canada's top finisher in 54th. Can you tell us a little bit about your experience at the World's in Uganda? Was this your first time to Africa?
Thank you so much. Yes, it was my first time in Africa. The World Cross Country Championships in Uganda was a very eye opening experience for me in a few ways. Right from when we landed it was a very "full on" experience and the one aspect that really stood out for me was the driving. There are motor cycles everywhere and people cross the street wherever and whenever. Lanes seem to be just a suggestion and in a city of over a million people, I think I only saw 2 stop lights during our entire trip.
It was also unique to have the race site within walking distance of the hotel we were staying. Walking to and from the course during the training days people on the street seemed to be very intrigued by us. Many people would stare at us and try to talk to us in Swahili or simply just say "Canada".
The race itself was another eye-opening experience. It was very cool to race against the top runners in the world that will someday likely become Olympic champions. It was also interesting for me going to my first World Championship event and seeing; how a national team dynamic works, the race course, the media and the security which were all new things to take in.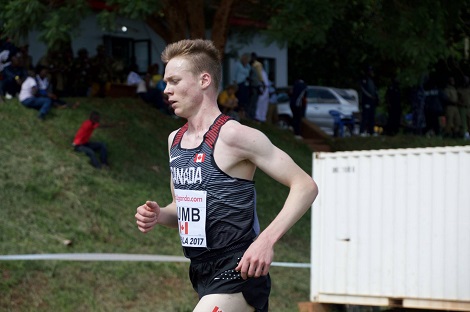 Photo: Émélie Rivard-Boudreau
BC Athletics: I'm sure the long travel to Kampala, Uganda was not without its difficulties. Was there any memorable moments from the many hours on the road/in the air?
Although not actually during the time while we were traveling to or from Kampala, one day we were travelling on one of the team buses from a Mosque to a local market through rush hour. I was sitting in the seat one away from the window and was taking a photo of the crazy busy streets when suddenly someone off the street came running along the side of the bus, reached through the window, grabbed my phone and dashed off with it. Although it was unfortunate to be without a phone to take pictures with for the rest of the trip, I had almost lost that same phone many times in the past few months so at least when I did finally lose it there was a good story behind it.
BC Athletics: Both of these Championship XC races are unique in that the Junior and Senior Teams travel together and compete as part of the same championship. What was that experience like spending time with some of Canada's top senior athletes?
Travelling with the senior teams was a valuable experience because I got to see what kind of things the older athletes did in preparation for the race. I appreciate being exposed to lots of different people on these trips because it allows you to see what kind of things work for different people, everything from what type of runs athletes will do in the days leading up to the race to diet on race day.
BC Athletics: You are currently a first year at UBC. Can you tell us a little bit about how these first few months have gone so far? How has the transition been?
The first few months at UBC have been very positive. Although it was a big transition for me both in terms of taking a full Engineering course load and training at a higher level, the great support I have been fortunate to receive at UBC has made it smooth. My coaches CJ (Chris Johnson) and Norm (Tinkham) have helped to make the transition from high school to university smooth, both in recognizing that I was not used to running high mileage and adjusting training load accordingly, understanding if I needed to miss a workout to study for a midterm. This year we have an unusually high number of rookies on the distance team that happen to be almost all in Engineering. Because of this we have a great study group that works together most nights. I really enjoy having this comradery with the other rookies and the balance of academics and athletics it provides.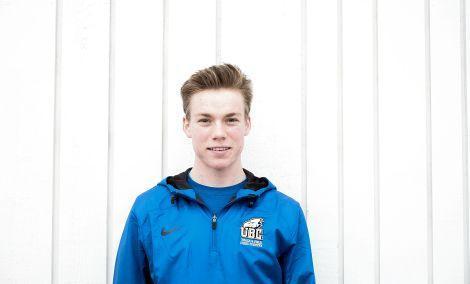 Photo: The Ubyssey
BC Athletics: With the XC season over and the outdoor season already underway what goals do you have for the 2017 outdoor season? Are there any big meets are you targeting later in the summer?
As far as the outdoor season goes, early in the outdoor season I would like to shift my focus towards the shorter distances on the track, hopefully running mostly 1500's and a few 800's. Later in the season I would like to try a few 5000's in the summer and see how those go. I think it would goal of mine to try and make the Canadian PanAm team this summer and compete in Peru, I'm just not sure what distance I would like to try and make it in yet.
Thank you Kieran for taking the time to speak with us and good luck in your upcoming competitions.
Chris Winter, Technical Manager, BC Athletics