Catching Up With BC's Rising Star - Camryn Rogers
March 2, 2017 11:31am
Camryn Rogers of Richmond, BC placed 1st in the Junior Women's' Hammer Throw and Shot Put at last year's Canadian Track & Field Championships in Edmonton and ended the year with the #1 ranked performance in both the Junior Women's Hammer and Shot Put with performances of 59.73m and 13.77m respectively. And, most impressively, she did all this while still only a Youth!
Camryn has followed up her summer of success with a very strong Indoor season where she currently leads the nation in both the Junior Women's Shot Put and Weight Throw. BC Athletics caught up with Camryn to talk about her Indoor Season, plans for the upcoming outdoor season and what next year has in store for her as she heads off to University.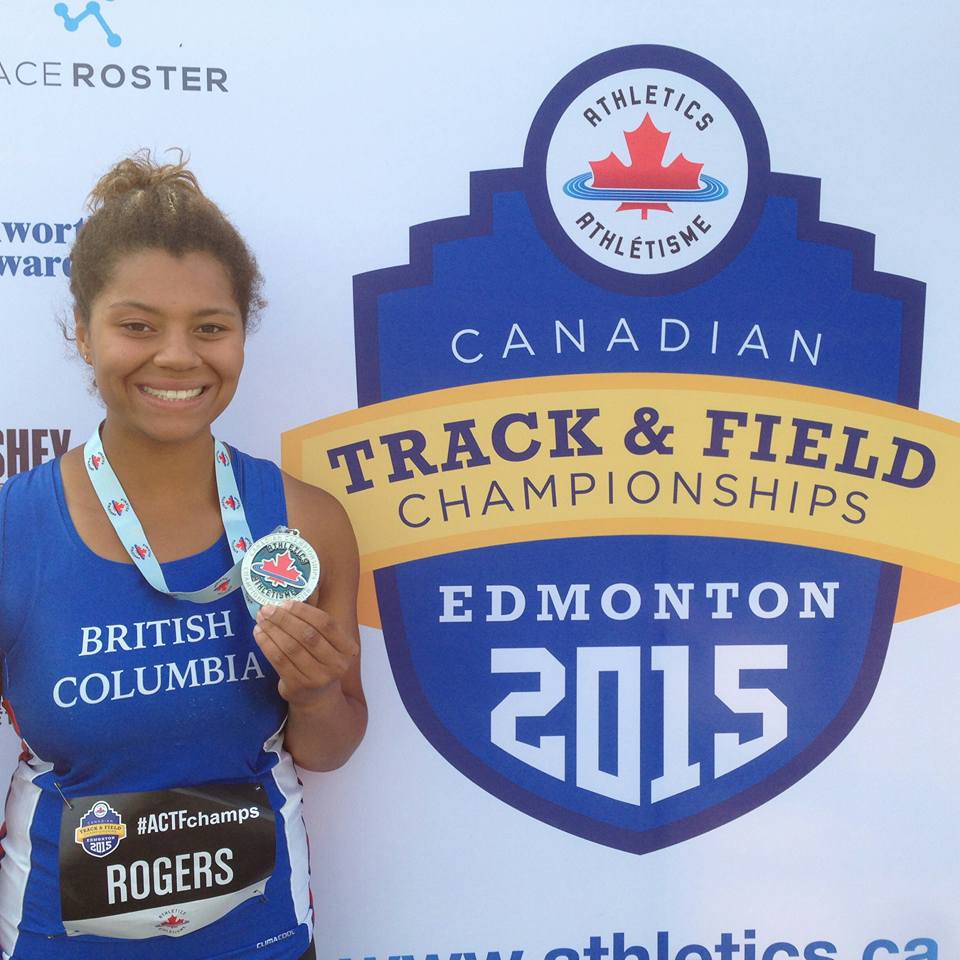 BC Athletics: First off we would like to say congratulations on your recent performances at the University of Washington High School Invitational on February 2nd, 2017. Can you tell us a little bit about these two performances and what your expectations were coming into the season and specifically this meet?
Thank you so much! I always hold high expectations for myself and my performance in a meet, and approaching this indoor season was no different. My goals were to hit 19m in the weight throw and 14m in the shot put this season and coming close to accomplishing both of those distances in this one meet makes me extremely happy (Editors Note: She threw 18.75m & 13.68m respectively). My training schedule throughout the fall and winter was organized so that I could peak for the short indoor season and the late night practices (rain or snow) and heavy lifting sessions enabled me to achieve two new personal bests in both the shot put and weight throw. I appreciate the process and what it takes to do well plus the time Coach (Garrett) Collier puts in getting me there.
Read more: Throwing her passion to the wind results in golden returns for McMath's Camryn Rogers
BC Athletics: Tell us a little bit about what first got you in the sport and what do you credit for the success you has seen so far?
My mom is a hairstylist with an amazing clientele and my interaction with them has exposed me to new interests and avenues in life (which I am very grateful for). After participating in track and field events in elementary school it was suggested by several of my mom's clients that I head over to Minoru track and try some events with the Kajaks Track and Field Club. So, on January 5th, 2012 my mom and I went over to the track and that was the first day I met Richard Collier. The way he talked about throwing intrigued me greatly and I knew right then and there that I had to try it out. Five years later, my passion continues every day and I want to continue on for a very long time. I must credit my support system for my success both in and out of the circle; Garrett and Richard Collier, my family and friends, everyone who has had a hand in my development over the past five years. I am surrounded by hardworking and inspirational people every day that assist me in my journey to keep setting my goals higher and higher. I am very grateful.
BC Athletics: 2017 will be a year of changes for you as you head down south to attend the University of California, Berkeley. Can you tell us a little about the decision process, what other schools you considered, and what ultimately led you to pick this great school?
Heading south for university has been at the forefront for me for quite some time and knowing that in a few months I will officially be a Golden Bear makes me excited every time I think about it. I even have a countdown going until I leave (as of March 2nd, 162 days). In the final stages of my decision process I had four schools at the top of my list: Berkeley, the University of Minnesota, Penn State, and the University of Arizona. I immediately felt like I connected well with Coach Mo Saatara, and my visit to Berkeley confirmed this and more. I was drawn to how focused and tight knit the team is, the countless programs and educational opportunities available, the friendly atmosphere on campus, and of course the fantastic coaching and training facilities. By the end of my visit, I knew Berkeley was the place I belonged and could achieve my full potential. I cannot wait to head down there in August!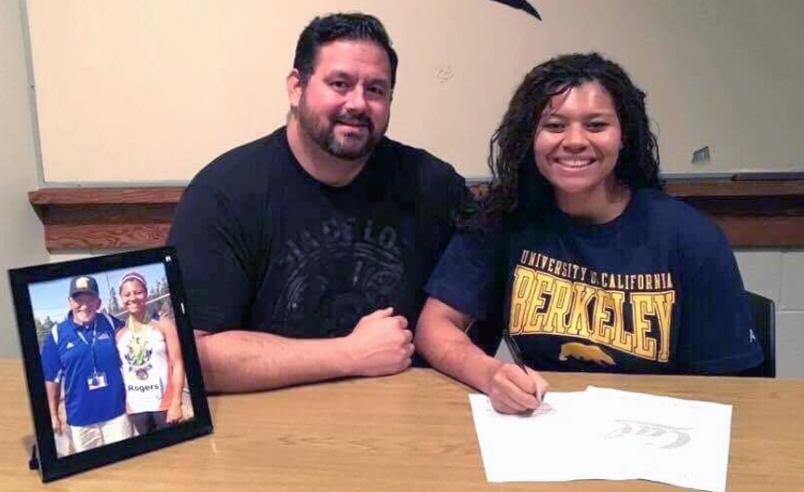 BC Athletics: What's next for you? Do you plan to compete any more indoors or are you now looking toward the Outdoor season?
I competed at my last indoor meet a few weeks ago and I am now solely focused on prepping for the outdoor season! I finished the indoor season in the best way that I could have; pleased with my results while knowing that there is a lot more gas in the tank. This feeling is part of what is pushing me to focus and train hard for the upcoming outdoor season with hammer and shot put. My first outdoor meet is the Kajaks Track & Field Club Spring Fling and it will be nice to start out right at home in my club's circle. The whole team has been working incredibly hard and we are all excited to put on our Kajaks singlets again. Seeing all the throwers from other clubs after about 7 or 8 months really puts me into competition mode and I hope to open up with a good mark and build on it in the following meets.
BC Athletics: What are you goals for the outdoor season? What big meets are you targeting later in the summer?
My biggest goal for the outdoor season is to break 60m in hammer. After coming so close to it last season (59.73m), surpassing this mark has been in my mind now for months. I am also aiming to break 14.50m in shot put. With these two events I hope to make Team BC for Canadian Junior Championships in Ottawa this July and I also hope to make Team Canada for the Pan American U20 Championships in Lima, Peru. Representing Canada last summer at the World Juniors in Poland was an incredible experience that I had been working towards since the previous season. Having the opportunity to compete for my country is a dream I work towards making my reality every day. The emphasis in my training so far this year has been on perfecting technique and building strength. Every practice I discover something new about hammer. It is a powerful yet graceful event and there are always new details to pick up and concepts to learn; this is what makes it so beautiful to me.
Thank you Camryn for taking the time to speak with us and good luck in your upcoming competitions!
Chris Winter - BC Athletics