Kris Swanson takes win #19 of 20 at the EMPEROR'S CHALLENGE
August 14, 2018 13:59pm
On Saturday August 11th Canadian mountain-runner Kris Swanson once again won the Emperor's Challenge Mountain Run, the 20 km event that leads over the summit of Mt Babcock south of Tumbler Ridge. His time was 1-25-01. This was the 20th Emperor's Challenge, and Swanson has won nineteen of these, a North America athletics record. In second place was Shaun Stephens-Whale, the top Canadian stair-climber.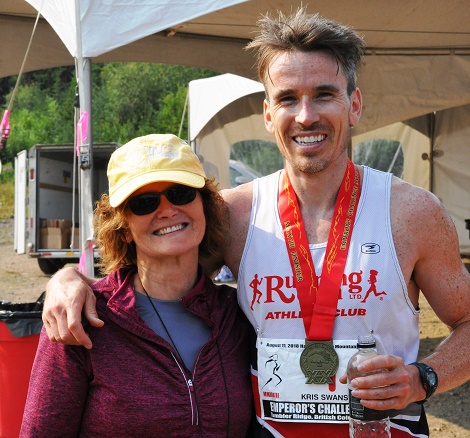 In a star-studded field in the Women's event, the first two runners broke the previous record, with Lindsay Carson (a member of the Canadian cross country running team) being the first to dip under 1-40 in a time of 1-39-42, followed by Jocelyn Poirier-Hardy.
When approached for comment, Kris Swanson said: "My admiration for the race organizers to so consistently run this event with such preparation and competence runs deep. The positive energy that radiates in the Tumbler Ridge community during the time of the Emperor's Challenge is infectious. Every year my experience here leaves me with a refreshed spirit."
The 2018 event was held in ideal sunny conditions, preceded by three days of thick smoke and followed by a day of drizzle. There were 857 finishers, the highest ever in the history of the event. Over 60% of the participants were female. As usual, a huge number of volunteers and community groups worked together to make the event a success, much appreciated by the small volunteer-committee.
An evening banquet celebrated the twentieth running of the race, featuring a play specially written for the occasion by Erin Hanna. A 240-page hard-cover colour book, written by Charles Helm and designed by Trent Ernst, provided further commemoration of this milestone.
Fifty-four athletes received their in-perpetuity bibs for having completed five Challenges, nine received framed prints for having completed ten Challenges, and four (Kris Swanson, Birgit Sharman, Charles Helm and Carina Helm) received special awards for having completed all twenty events.
The Emperor's Challenge is the largest of its kind in Canada. The capped field for the adult race was increased to 1100 in 2018; registration opened 4 months before race day, and filled up in less than ten hours.
Results can be found at - https://www.strideandglide.ca/event/results
For more information please contact Jerrilyn Schembri (Race Director):
250 242 8047 or truth@pris.ca
Photo Credit - Dave Gajadhar