Save Up To 25% Off Performance Testing At Fortius Sport & Health
February 1, 2018 16:22pm
BC Athletics and Fortius Sport & Health have partnered to support Athletics athletes in British Columbia by offering BC Athletics members up to 25% off four Lab services, including a state-of-the-art 3DRun/Walk Analysis.
Fortius is an integrated athlete development centre in Burnaby, home to a purpose-built, state-of-the-art human performance lab. Their team of experienced professionals offer applied biomechanics and exercise physiology testing to athletes at all levels of competition.
The Lab services offered by Fortius are available to athletes at all levels, but BC Athletics strongly recommends that athletes work with their individual coaches to ensure proper implementation. BC Athletics also recommends these services for athletes aged 16 and older.
BCA members receive the following discounts at the Fortius Lab: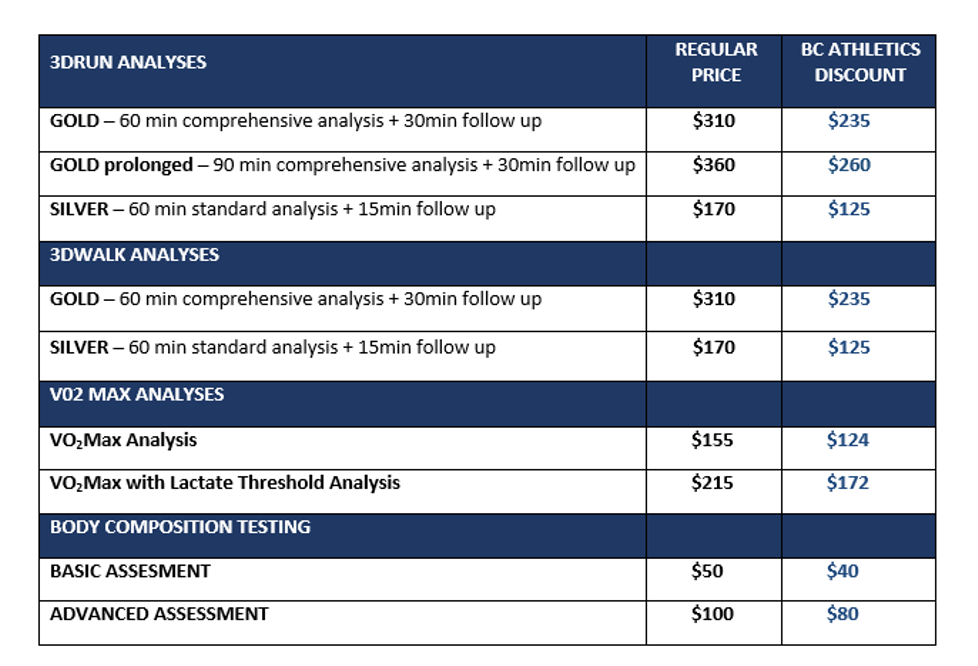 To learn more about these tests and the Fortius Lab, visit www.fortiussport.com/lab
Click the button below to redeem this discount:

For more information contact BC Athletics Technical Manager for Track & Field.
Chris Winter
604-333-3555
MORE ABOUT FORTIUS SPORT & HEALTH
Fortius Sport & Health is an integrated athlete development centre strengthened through philanthropy and focused on optimizing athlete performance for life. Situated in Burnaby, B.C., we are home to a state-of-the-art training centre, FIFA-standard turf pitch, NBA/FIBA/collegiate lined gymnasium, human performance lab, sport science and medicine institute, 50-room lodge and a chef-inspired bistro. Our integrated team of sport medicine and science practitioners share their complementary expertise to deliver precise, customized treatment and training plans for athletes of all ages and abilities, under one roof. Learn more at www.fortiussport.com.
MORE ABOUT BC ATHLETICS
BC Athletics is the Provincial non-profit amateur sport organization for Track & Field, Road Running, Marathons/Ultras, Cross Country/Trail Running and Race Walking. A Branch member of Athletics Canada, BC Athletics is made up of individual members, member clubs and affiliated organizations. The purpose of the Association is to promote, encourage and develop the widest participation and the highest proficiency in the sport of Athletics. Learn more at www.bcathletics.com.