Tyler Dozzi One to Watch at the BC High School Track & Field Championships
May 25, 2017 15:24pm
Tyler Dozzi is a grade 12 student at Oak Bay High School in Victoria. He is a part of the Prairie Inn Harriers, a high performance group for young athletes coached by Olympian Bruce Deacon. Tyler enters the BC High School Track & Field Championships as a favourite in both the 1500m and 3000m after winning last year's BC High School XC Championships in Kelowna, BC and the National XC Championships held in Kingston, Ont. BC Athletics caught up with Tyler prior to the BC High School Track & Field Championships to talk about his goals for the championships, the rest of the season, and about his decision to head to the University of British Columbia next season to compete for the Thunderbirds.
BC Athletics: Congratulations on what has been a very strong start to the 2017 Track and Field Season for you. Having won both the 1500m and 3000m events during the Vancouver Island Track and Field Championships you will head into the BC High School Track and Field Championships as one of the favourites. Can you tell us a bit about how you feel your season has gone so far and what goals you have for the upcoming championships?
Thank you! I'm definitely happy with my 3000m time (8:28), having been a solo effort. My season has been pretty uneventful so far, as I haven't had many opportunities to race. I'm definitely hoping to bring home a medal in both the 1500 and 3000, but I have my sights on setting a personal best in the 3000. The 3000 field, being as fast as it is this year, could possibly merit a record attempt at John Martens' time of 8:21.27, set in 1975.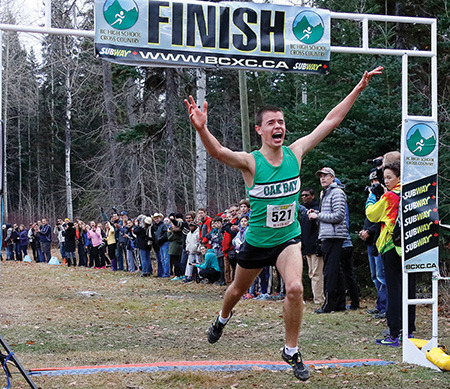 Photo: Yan Lyesin
BC Athletics: Your road to success in this sport is quite different from most. Having grown up in Terrace, BC you made the decision as a 15 year old to leave home and relocate to Victoria in order to take advantage of better weather, world class facilities, and to be coached by Olympian Bruce Deacon. Can you tell us what that move was like and how you feel it has shaped you as an athlete?
The move wasn't a difficult transition as I have been greatly supported by my club, coach, community, and parents. I definitely would not be running the times I currently am without the training I get with Bruce, and certainly wouldn't have seen the same success. I've improved greatly in all aspects of running, both mental and physical.
BC Athletics: You are a part of a very strong group of young athletes training with the Prairie Inn Harriers Youth Team, under Olympian Bruce Deacon. Can you tell us what training a part of this group has been like?
Training in the group is a wonderful upgrade from running alone in Terrace. The biggest difference I've found being with the Harriers, is that I always look forward to and enjoy my workouts. The Harriers have made high school running much more enjoyable, as well as providing support at races and workouts.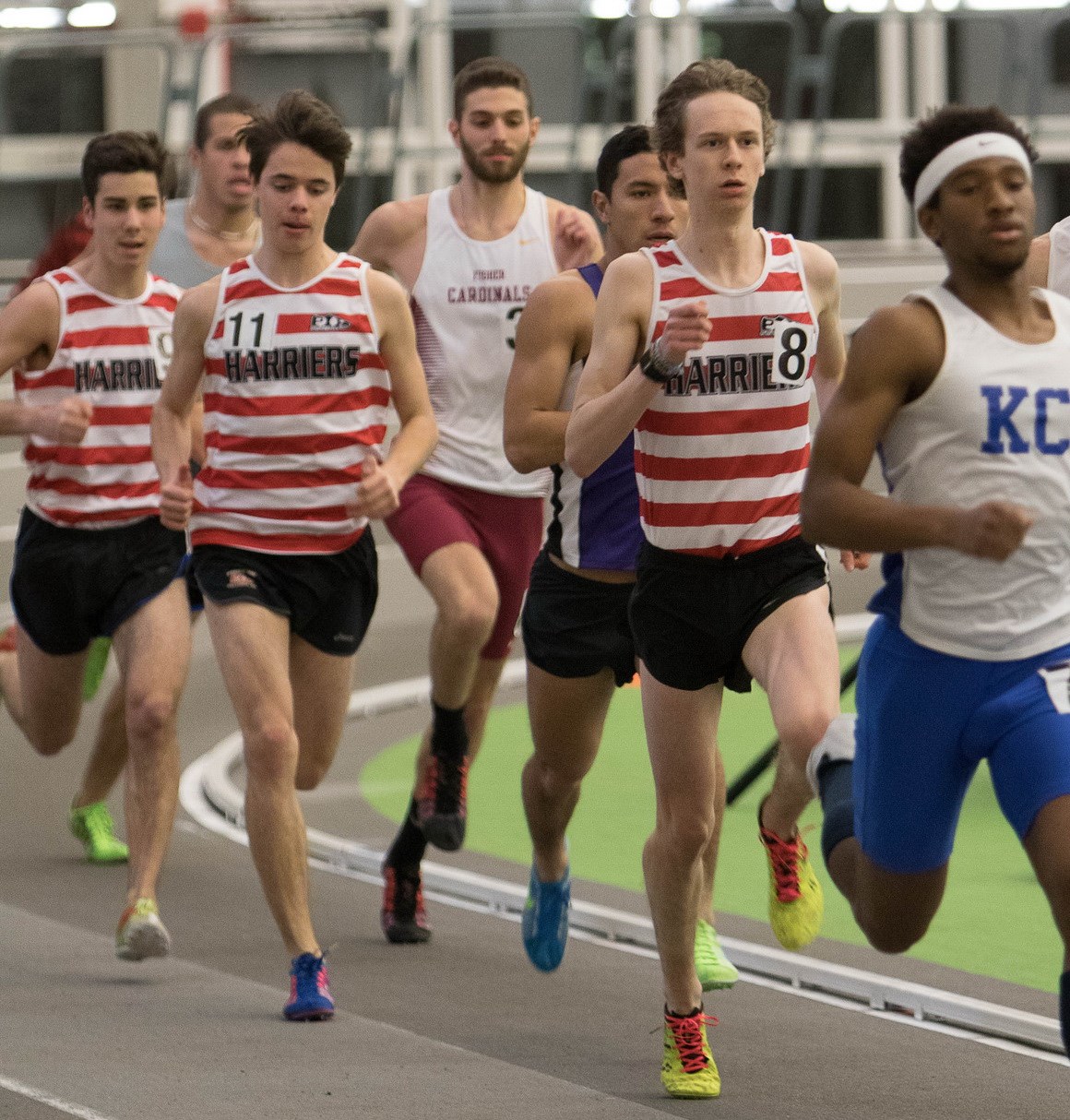 Photo: Yan Lyesin
BC Athletics: You recently announced that you will be heading to the University of British Columbia in September to study engineering and compete for the Thunderbirds under Coaches Laurier Primeau, Chris Johnson, and Norm Tinkham. Can you tell us a little about the decision process, what schools you considered, and why you ultimately decided on UBC?
The decision process was incredibly difficult for me, and I was quite stressed trying to decide on a school. I had taken 6 visits, to Guelph, Iona, Syracuse, Washington State, Oklahoma State, and UBC. I was able to narrow it down to Washington State, Oklahoma State, and UBC, but struggled greatly with a decision. I initially stated that I would attend Oklahoma State, but after serious reconsideration, changed my commitment to UBC. I chose UBC because it was the clear winner for academics, and I knew I would be surrounded by an excellent training environment with many talented runners that I already knew. UBC is close to home, and satisfies every aspect I could ever ask for in a world class university.
BC Athletics: What goals do you have for the 2017 outdoor season? Are there any big meets you are targeting later in the summer?
If I'm given the opportunity for a fast, deep 3k, I'd like to run under 8:20. My biggest goals, however, lie in the greater distance of 5000m. I am hoping to make team BC for the u20 nationals in Ottawa over 5000m, and will attempt to land a spot on the u20 pan am team this summer as well. In Ottawa I'll be aiming for the podium, and attempt to run under 14:35 this summer.
Thank you Tyler for taking the time to speak with us and good luck in your upcoming competitions.
The 50th edition of the BC High School Track & Field Championships take place June 1-3 in Langley. More details can be found here.
Chris Winter - BC Athletics